Galletta's All-Time Points.
Oswego All-Time Points.
2-Track All-Time Points
All-Time Win Stats

Galletta's Greenhouse
& Go-Karts
60 County Route 20
Oswego, NY, USA
13126-6512
Telephone:
(315) 343-0879
or
(315) 343-4281
Directions:




Racer and website designer Chris ChrusherComix's other websites:

Chris' Graphic Novel:



Chris' Comic Book:



Chris' Comic Strip:



Chris' Children's Book:

Other racing websites:

Retired Galletta's Karter Howard Seabrook Racing!





Oswego Speedway
Where we've attended countless races and race dirt go-karts weekly Fridays: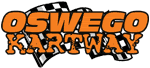 Welcome! We are a Karting Club that invented and races extremely affordable 5hp, Single Wheel Drive "Gas stocker" karts for a Points championship every summer at Galletta's Greenhouse Karting Speedway and a Gas Stocker division at Oswego Speedway's Clay Kartway. We also record weekly dirt karting classes in the Oswego area and make them available on DVD! Join us racing by either building your own or renting one of our team backup karts. Or just watch in person, or by buying our DVDs. Please read on and learn more about our extremely affordable brand of highly competitive racing!


A snapshot from one of our competitive Summer Points Challenge events in 2007! But we weren't always like this! Observe the...
Galletta's Go-Karts Historical Flashback Pictures:
BUILDING A DYNASTY! A humorous look at the history of Galletta's Go-Karts picture gallery. Keep in mind, this entire website, we cover actual events of our friends-and-family "Racing Yard Kart Club," but use self-deprecating humor as we do it. If you take the jokes seriously, then you are a tool.
All text and pictures are copyright © by Christopher "ChrusherComix" Stevens:
The formative years... The 1900s and Founder John J. Galletta:

Rumor has it, in the mid-1900s, a child of Italian Immigrants named John J. Galletta discovered the property soon known to be Galletta's while looking for a new place for his expanding Empire of Flowers. Mr. Galletta acquired the property by defeating a Native American named Patrick O'Shannity in feats of strength, including racing to a pole and bashing the other over the head with a pot of gold. O'Shannity's challenge was met when Mr. Galletta used his skills formed during WWII fighting off the Nazis and polished while apprehending common criminals as an Oswegonian Police Officer. O'Shannity, who had previously used the property as a farm and a hiding place for his pot of gold, admitted defeat, but with his dying breath he informed Mr. Galletta that the property was built over an ancient burial ground of racing Indians who then passed their racing spirit to the colonials, and then onto O'Shannity himself. O'Shannity also informed Mr. Galletta that the ghosts of the undead vowed to haunt vagabond welfares who dared venture onto the property and try to defeat the lawful owner. O'Shannity vowed that his undead spirit would join with the ghosts of the past to give powers to Mr. Galletta and his offspring in order to defend the honor of the property.



As the years went by, the Anti-National-Socialist, Nazi-smashing Mr. Galletta's offspring all showed potential of great racers. After all, John's wife Josephine was first cousin to the Oswego Speedway's founder George Caruso, which further spread the powers of racing genetics throughout the family.

However, his first-born daughter married a weasely troll of a Fultonian named Wesley James TrOgre Stevens (some have said; Beauty and the Beast), and established their home at Galletta's with the newborns Christopher and Matthew. During this period, as the boys grew into handsome young creatures, nobody knew the mystic legend of the land. But soon, the power of the property would soon make itself known...
Wesley always tried to impress Mr. Galletta, but his limited mental and physical abilities prevented him from ever succeeding. For one, he was too weakly and scruffy-looking to fight the Vietnamese Communists like Mr. Galletta fought the Nazis. But Ogre's work ethic in the greenhouse eventually did impress Mr. Galletta enough to dub Wes, "Captain Marveless." One day, Ogre heard his father-in-law tell the tale of the racing history of the property, and was inspired so much that he tried to see if he could indeed win a race. However, while racing against thin air, Ogre crashed and died in a horrible one-man tricycle accident.
His alleged children, Christopher and Matthew, summoned the power of the racing ghosts and the magic of Galletta's flowers, and revived Ogre from his slumber and near-final-resting-place under the Galletta's Greenhouse sign.
The early 1980s:

"Galletta's Boys" Matt and Chris got their starts rather early. Almost at embryonic stage here! Peddle-power! Back before they destroyed them... (Notice Matt's doll went for a ride with him! Bwhahaha! What a girly-boy!)


Behold! The early 1980s! Pretending to be Steve Gioia and Doug Heveron, whom they cheered for at Oswego Speedway back then!



"Galletta's Rules" Matt and Chris got their experiences in racing strategies in the early 1980s by PUSHING their karts to victory! Who needs motors? Only lazy wimps!



They learned early how to race clean. Here, Chris takes out Matt, and then realized the error of his ways. However, now he plans to bring this technique back against all who oppose him!



Here, Chris and Matt practice posing with their karts. This is how they look so handsome and dignified compared to all other drivers when they pose next to their karts.



Again, the racing here started with fast feet - and they learned very well. They learned so well, that they were expert drivers before some disgruntled felon drivers and their gossip-happy wives learned how to spell! In these early years, Chris won a majority of the time.

As the boys grew, so did their racing skills. They did not let Oswego's snowy winters stop their learning, as they would then further groom their abilities at sledding the treacherous Galletta's Sledding Hill.


Here they are, teaching the revived corpse of Ogre how to sled. As we see, Ogre did not learn very well, and his terrible sledding caused an accident that put Matt on his head! Maybe in the future Ogre would learn?



Chris and Matt were so good, they went straight to Indy in 1986 at 12 and 10 years of age! Ogre, with his 80s beard, was allowed close to the prodigies, but only for a short time... just long enough for pictures. Here they drew powers from the legendary cars and track.

----------------------

The beginnings of the modern-day Galletta's Go-Kart track - The mid-1990s :
Oh how the years went by. Matt got his #3 Go-Kart in 1990 (a used Manco yard kart off of a friend which they rebuilt several times), followed by Chris getting his original #1 in 1992 (a tank of a Thunder Island Kart which was too heavy to compete with the smaller #3, so they stripped it and used the parts to build the #2; something some visiting drivers should also do). This then resumed the racing rivalry, and young Chris and Matt further honed their racing prowess in their furious battles. The track was formed around the old "Chrusher Coliseum Football Field" and the Fort Crusher treehouse, (which later became the race tower in 2005). The track was later slightly shortened to stop in front of the tower house, and slowly, but surely, a track was born through hundreds of races and years of Matt's hard work. Then, after just a few years of Matt and Chris battling 1-on-1 (occasionally with Jesse "The Liar" Jesse Vivlemore driving one) we got a third kart, the #4 - a brand new Manco out of the box - and dragged Ogre into our early conflicts, schooling him in the ways of the racing arts as well.
Meanwhile, countless locals discovered the track and felt that they learned enough alleged skillz drinking beer, getting arrested, and watching NASCAR "press gas peddle and turn left - *BURP*!" in drunken stupors to challenge the boys! Still, some of these locals were genuine good drivers. How could we ever find out?! Naturally, we threw them into our battles in addition to our friends and relatives just long enough to properly school them. We now resume our picture gallery after we further dragged friends, relatives, and acquaintances into our epic battles that raged on in the mid-1990s....
1996 Klassic (Spelled with a "K" because we race Karts, dummies!):


The first Klassic in 1995 was just two karts; Matt in his trusty Galletta's #3, and Chris in the original Galletta's #1. But no pictures have been found. However, here are some grainy photos from our 2nd Klassic, the first with the Galletta's #4 (back then #23) driven by Chris, and Ogre inherited Chris's #1 (before it was scrapped for being too heavy; its parts salvaged to create a new, lighter kart, the Galletta's #2). Matt won these initial 2 Klassics.
1998 Klassic:


Left: Chris Chrusher (#2), Matt (#3) and Wes (#4) prepare the karts for the 1998 80-lap Klassic. Back when we only had 3 karts! Right: Before the race, Chrusher, in the Deuce, lets everyone know that he is #1 (though he placed 2nd).



Ogre, in the #4, smiled for the camera before RaYzor Castaldo delivers a brutal WWE-style kick to the back of the skull! This pic was even talked about on Ray's obnoxious internet radio talk show, HateTheRadio when the site was formerly hosted on bandwidth-wimpy Geocities.



Look at Matt's lead over Chris and Ogre! Chris is dejected after a grueling 80 laps, after another futile attempt to defeat his little brother Matt for the 3rd straight Klassic and Points Championships in a row. Matt is getting revenge for all of those childhood beatings that Chris delivered upon him!



Matt wins! (What else is new... other than his long hair! Haha!) Also, RaYzor looks on, looking rather womanly.

1999 Klassic:


Back when we only had 4 karts! Chris finally beat Matt's streak and won the Klassic and Points Titles this year, in the #2.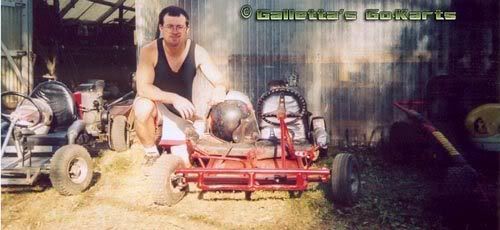 According to some, here are "The Galletta's Boys!" Matt & Chris. (Even though that's only our mother's maiden name.)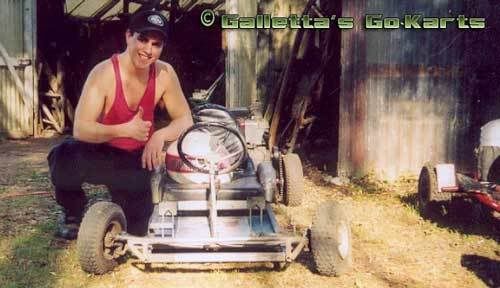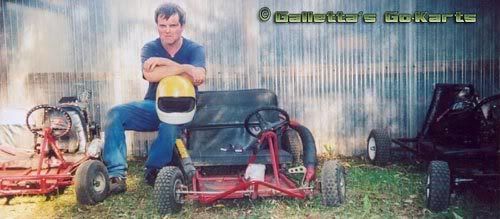 Left: Wesley James TrOgre Stevens... looking as mean as ever! Well, at least his kart was clean back then!



One of Chris' best buddies, a hair-bag named RaYzor, poses next to the then-brand-new #1. (Poor Ray... not even my friends are safe from the wrath of my humor, much less our go-kart buddies.)



The #1 kart when it was first built and with a fresh paint job... Before several rental drivers wrecked the thing into hell! This was the 2nd Ogre Chassis in our fine collection. Next came more at the rate of around one per year, and with more karts came more guest drivers! TONS more over the years! For more "serious" coverage of this era, please view the 1996-99 Season Recap page.

The 2000 Season & Klassic:


Here, Chris was the dominant factor, winning his 2nd of 3 straight Klassics in his brand new Ogre Chassis #5 (after winning the '99 one in the #2). Matt failed in his brand new Ogre Chassis #6. Joined here by a cousin named "Bowser" Brian Galletta and Larry Dishaw, an uncle of ours.
The 2001 Season & Klassic:

In 2001, we raced with brother limited drivers Fran and Cameron Rowe, Eric Syrell, Sean Stevens (no known relation), and Brian Galletta among others. Cam helped Matt create stagger on the karts, which in past seasons, we had absolutely none. This increased the speeds about one second. Cam also won a feature (becoming the 1st visitor to do so) but was plagued with a hairline fracture of the drive wheel axle all season. And Eric led a good portion of the Klassic early, but it wound up being his only appearance. Problem is, this group stopped attending just as they were getting good. Time to find more new drivers! Chris won his third of three straight Klassics and Track Championships that year, in his orange #5.



The 2002 Season & Klassic:


Tom Culeton, DJ, Dan and Chris Lupa, Dan Allnut and friends joined us in 2002. Tommy invented a new kind of accident: the Tommy-Gun-Fast-Flip, where he violently and quickly flipped the Galletta's #2 several times that year and completely bent the frame out of its original form. They raced great all year, and thus created our greatest season to that date, but mysteriously stopped the next year, again leaving the trio to groom new competition. This season is the one where we dramatically decreased our kart breakdowns, simply by using large drivewheel tires and thicker gauged drivewheel chain. Matt snapped Chris' 3-year Klassic and Track Championship winning streak here.

The 2003 Season & Klassic:


Our cousin, Brian Galletta, invaded our 2003 Klassic with his friends. Yes, he is flipping you the bird!


Opening lap saw Brian Galletta set a fast pace over time-trail-winner Chris, Matt, and Ogre. Matt continued his Klassic and Points Standings Championship winning streak, but only after a fierce battle between himself, Chris and Ogre late. Again, this group was starting to get pretty good, one of them even scoring one regular-season win, but then all of the sudden, stopped coming. No problem. Re-occurring theme: Let's find and groom more new drivers!

The 2004 Season & Klassic:


The 2004 Klassic was large and a lot of fun. A great new pack of drivers came weekly and improved as the year went on, and on-again-off-again racer Jason Mills brought Ed Maynes. Ed, in his first year, was trying to lap the field early, but his kart broke and Matt won (again). Unfortunately, this season was marred by one of our most promising young drivers ever, Dan Murdock; losing his life in an off-season snowmobile accident. His friends (Mike Simoneou and the Barlow brothers) stopped coming, probably due to the fact that it reminded them of their lost friend. Another year, another group of excellent and improving drivers down the drain, and time to find more potential competition. At least we got new drivers including Ed, Barrelin' Brian Bortel & Fred "The Wild Werewolf-man" Collins to return.
Invasion of the Overhead Valve Tank-Karts:

2004 and 2005 saw the invasion of a new kind of motor. For the first ten years of Galletta's racing, we only had stock 5hp karts. But several new drivers that brought 5.5hp-6.5hp+ OHV motors to the track. We allowed it on a temporary "trial" basis, being told that they were only stock 5.5hp motors and their karts were heavier than ours. We loved racing with these guys - who are very passionate drivers, but several 5hp drivers complained that they had an unfair advantage being allowed such larger karts and motors. The competition was not equal, and it led to many disputes. Many accused the OHV guys of buying 6.5hps or altering them with racing parts and not being honest; which they later admitted to. Others complained that they raced rough and didn't obey rules (going to the rear after causing a caution, ect.) Hence, at the end of the 2005 regular season, Galletta's decided to stick strictly to stock flathead 5hp motors. We've always invited these guys back with 5hps, but they've always declined. We've always hoped that they change their minds in the future. It forever changed the Galletta's Kart Club's rules by going against stock. However, we also got a new batch of drivers that included Robbie Jimenez, Josh Schute, and Gary Miller, all of whom were quick learners. Ken, JR, and Kris Pitsley also assisted greatly on the track maintenance, flagging, and scoring the races.
Another great Klassic was held in 2005. Matt again won the Kart Klassic and Track Championship, and we then had a elongated season into the Fall, including special costumed Halloween races to conclude a long and fun season. But we unfortunately lost another young driver named Tom Murray, to a fatal off-season car accident.
Complete 2005 Season Week-by-Week Coverage: 2005 Final | 2005 #21 | 2005 #20 | 2005 #19 | '05 #18: Klassic | 2005 #17 | 2005 #16 | 2005 #15 | 2005 #14 | 2005 #13 | 2005 #12 | 2005 #11 | 2005 #10 | 2005 #9 | 2005 #8 | 2005 #7 | 2005 #6 | 2005 #5 | 2005 #4 | 2005 #3 | 2005 #2 | 2005 #1
2006 Season: A new alternate track - Oswego Speedway's Dirt Track:
The 2006 season saw the Galletta's Racing League run two race tracks; Galletta's and Oswego Speedway, where many of us have attended since kids and felt that it was an honor to race in back of the famed track where we watched so many great Supermodified battles. They have a smooth, albeit small clay track. We were enjoying everything about the track except for the fact that they forced us to run mixed-class races. We were running with larger OHVs - some of whom were still a little mad about having their motors banned last season, and even some methanol racing karts with raptor motors a time or two. A couple of racers even got mad because they couldn't race their ways out of paper bags, never won one race (hell, rarely finished better than last), and accused us of cheating, so they built their own track and made up their own rules because they couldn't beat anybody else! We planned to race on any track the following year if they let us run our own class (gas, clockwise, and preferably stock 5hp motors). If they stuck us with specialized racing motors, methanol racing karts that cost 4-5 times as much, or bigger OHVs, then a fair percentage of our regular Galletta's drivers wished to just stick to the Galletta's track because we have a gas, stock 5hp rule. Some look snobby upon it, but so many thank us for it.
The opening lap of our biggest (16 driver) and longest (150 lap) race to date And we even had a kart or two un-rented! Never let that happen again, people! We want 20 karts, including all of our rentals used in our next Klassic! Be there or be stampage! Like the stampage that missed the 2006 Klassic! Haha, wussies! You missed possibly the greatest race in the track's history! Not to mention that the living fossil Ogre broke Matt and Chris' decade-long domination of the Klassic by winning it! What a crafty old Ogre! So you have no excuse readers! If he, a revived corpse, can do it, you can too!

The Galletta's Go-Kart Speedway from outer space sometime in Spring 2006! Thanks to Google Earth!

Also, Oswego Kartway from the back grandstands at Oswego Speedway.
Complete 2006 Season Week-by-Week Coverage: 2006 #17-23 | '06 #16: Klassic 150 | 2006 #14-15 | 2006 #13| 2006 #12 | 2006 #11 | 2006 #10 | 2006 #9 | 2006 #8 | 2006 #7 | 2006 #6 | 2006 #5 | 2006 #4 | 2006 #3 | 2006 #2 | 2006 #1
A snapshot from our 2nd season racing at Oswego Speedway (Xtreme photos can be purchased here). As the 2007 season rolled around, the Galletta's points raced raged on as usual, but our alternate track, the Oswego Speedway, implemented new rules. We had to adopt slicks (to preserve the clay) and we had to race with OHV karts up to 8hp. While most of the Galletta's regulars balked at these rules and never raced at Oswego anymore, some of us continued to race there (on average 2-5), just fewer than our Galletta's fields (between 10-16 weekly karters). Though we still had problems with larger karts with more horsepower, we still faired very well thanks to Matt's mechanical skills and the collective amount of racing experience that the Galletta's club possessed. And this year, we did it for points! When we get most of our regulars to attend, this show provides the best entertainment that local karters have to offer, with the Oswego Gas Yard Kart Classic having 16 karts and CLOSE racing! We'd just like more laps.

Though we had our largest year ever, we also had some nasty wrecks. This one from August 26th, 2007 was truly terrible, and possibly the scariest we've ever recorded on tape. This low-resolution clip does not give it justice, but gives you an idea why we frown upon young kids and inexperienced divers in our events. Bruises, abrasions, contusions, bumps, and smashed go-karts everywhere!

Like that video? Goooooood! You can view dozens of free clips here and buy dozens of DVDs here!
On August 30th, 2007, the three originators of Oswego-area Yard Kart racing taking 1-2-3 in the first ever Oswego Yard Kart Classic! Chris "ChrusherComix" Stevens won the Oswego Speedway Classic Weekend's Dirt Supermodified Yard Kart Classic 50, his father Wesley Ogre Stevens took 2nd in the Galletta's #4, and his brother and head mechanic Matt Stevens got 3rd in his Galletta's #33. In the 2007-08 off-season, we renamed our class to "Single Wheel Drive Gas Stockers." More info is here.

2007 Klassic:
The starting grid of our longest (175 lap = 20 miles) race ever, the 2007 Klassic! Though the race was truly filled with great racing, it only had 11 drivers, two potent Galletta's rentals sitting, and several Galletta's veterans with their own karts sitting at home missing the event, which is an embarrassment and a slap in the face of every Galletta's veteran that chose not to attend.

Complete 2007 Season Week-by-Week Coverage: 2007 Season Recap | 2007 Fall Races | '07 Galletta's Klassic 175 | 9/10/2007 | 9/03/2007 | 2007 Oswego Classic 50 | 8/26/2007 | 8/15-19/2007 | 8/9-12/2007 | 8/02-05/2007 | 7/26-29/2007 | 7/22/2007 | 7/13-15/2007 | 7/05-08/2007 | 6/28-7/01/2007 | 6/21-24/2007 | 6/15-17/2007 | 6/10/2007 | 6/03/2007

The 2008 Season & Klassic:

The 2008 season again saw us race at Oswego Kartway in addition to own track. For one reason, our driver attendance dwindled on both tracks, but for at least half of the year, we still raced 6.5hp OHV motors until the classes split over disagreement on rules and/or a salary cap on racing parts.
On THURSDAY, SEPTEMBER 4th, 2008, the Galletta's Karting Club participated in THE OSWEGO KARTWAY'S 2nd ANNUAL DIRT TRACK CLASSIC at THE OSWEGO SPEEDWAY. Again, the inventors of Galletta's Single-Wheel-Drive Gas Stocker Karting; Wes, Matt, and Chris Stevens sweep the top-3 spots in the Gas Stocker Classic for the 2nd year in a row (but not without some controversy on the final lap).

2008 Klassic:

THE 13th ANNUAL GALLETTA'S GO-KART KLASSIC 200!
In 2008, we finally did it! We went 200 laps! At the GALLETTA'S GO-KART SPEEDWAY on a crisp and cool Sunday, September 21st, 2008, we held the The race got off to a slow start, but the 200 lap Klassic was a success. Matt Stevens again proved his mastery of Oswego karting with yet another HUGE Championship win, the biggest kart race ever at Galletta's, the Oswego area (and probably everywhere else; we'd like to know if one is bigger anywhere). With his performance, he clinched the 2008 Galletta's Track Title to add to his Oswego Kartway 2008 Track Title, clinching the 2008 overall two-track title as well.

2008 Season:
Complete 2008 Season Race-by-Race Coverage: 11/2/2008 Galletta's | 10/24/2008 Galletta's | 10/19/2008 Galletta's | 10/12/2008 Galletta's | 9/21/2008 Galletta's Klassic 200 | 9/7/2008 Galletta's | 9/4/2008 Oswego Classic | 8/28/2008 Oswego | 8/21/2008 Oswego | 8/17/2008 Galletta's | 8/14/2008 Oswego | 8/7/2008 Oswego | 8/3/2008 Galletta's | 8/1/2008 Oswego | 7/18/2008 Galletta's | 7/10/2008 Oswego | 7/6/2008 Galletta's | 7/4/2008 Oswego| 6/22/2008 Galletta's | 6/19/2008 Oswego | 6/15/2008 Galletta's | 6/5-12/2008 Oswego | 6/8/2008 Galletta's | 5/30/2008 Oswego | 5/15/2008 Oswego | 5/08/2008 Oswego

2008-2009 Off-Season:
...has been the most active and shocking in history. Firstly, the Galletta's Kart Club added a new minimum weight requirement to their rules to ensure that some of the heavier drivers have a better shot at competing, which makes a few of our most regular competitors very happy; The rules page is found here. However, that is not the shocking part, as we used a weight rule in the 1990s and would have used it in the last few years if it wasn't for the fact that we were forced to race against a 6.5hp OHV Outlaw Class (the perennial "Too much horsepower" vs. "Too light" battle lived every year since mid-2004's OHV Invasion). The shocking surprise was that the Oswego Kartway, the dirt oval karting track owned by the Oswego Speedway, bans the Galletta's 1-WD Gas Stocker Karting Club from their track. Why the track banned us is baffling, as our club has (1) raced there ever since the track started (bringing anywhere between 5-15 karts with paying customers per week almost every race between 2006-08), (2) gave free promotion to (via this website and word of mouth), (3) created high quality DVDs for, (4) never had bad wrecks, (5) never had one injury, (6) never had one fight, (7) always obeyed the rules, (8) gave dozens of of ideas to, and (9) even raced against unfair "larger" motors (breaking our own motor rules just to be able to race there). Not one of the other classes-not even one person within the other classes-can make claim to these 9 points. Not one. The reasons given are weak - one being the insurance won't cover us (we have less accidents, lower speeds, and less injuries (none) than the other classes that race there, and what insurance did we pay for from 2006-2008?) and that we did not go to a non-mandatory meeting several miles away at a bowling alley in the middle of the off-season and during a predicted snowstorm. Weak reasons. The real reason, everybody believes, and to which Mr. Jim Losurdo admitted to, is because Matt Stevens wins too much (irrational because other WKA/weighted/motor-restricted methanol classes on his track also have dominant winners), and Chris Stevens (yours truly) makes this very website, humorously reporting each race with detailed descriptions, point standings, pictures, videos, and news - good, bad or indifferent - after every race, which burns a former disgruntled and epic failed Galletta's Visiting Driver/Oswego Kartway's irrational, temper-tantrum-laden, and belligerent track operator's @$$! Details to the unjust discrimination found here. The entire story of our relationship with the Oswego Speedway Dirt Track (AKA Oswego Kartway) -- including the good times, the bad times, and the ugly times -- is found on this webpage, compiled on one so it does not have to clutter up many.

2009 Season & 14th Annual Klassic 200:


The 2009 season was one of the best in terms of battle-tested competition. What we lacked in raw numbers - between 2006-2007, we would have 10-18 karts on track, and since the invention of Oswego Kartway and their taking some would-be drivers away in addition to the operator & some of his buddies spreading lies privately and publically mocking us, our numbers went to the 8-12 kart range - we made up for with top-notch talent. Forty-six different drivers entered twenty-three feature races, with eleven different drivers attaining feature victories! We cheat and rig races? I think not. Good drivers who are persistent can and do win at Galletta's, as seen in our all-time points and wins listings. This season, Chris Stevens finally broke his brother Matt's impressive streak of winning every Points Title he entered since 2002, by edging Matt in the points. Matt Stevens, however, still had the most feature wins and still took home the coveted Galletta's Klassic Championship race, the longest running annual 200-Lap gas flathead karting race known of in the world. Still, to this day, despite the many talented drivers who have raced at Galletta's Speedway over the years, only Matt and Chris Stevens have won track championships, and only Matt, Chris and Wes Stevens have won Klassics.

2010 Season & 15th Annual Klassic 200:

Another fine season was held in 2010 at Galletta's, a good year with more winners than ever before -- out of 29 different drivers entering races at Galletta's during the 2010 Regular Season, 15 different drivers won at least one of our 21 feature events held, including a handful of 1st-time-winners! This year was a first... it became the very first year that one of the original three founders - Matt, Chris, and Wes Stevens - didn't win the Annual Galletta's Klassic 200! Kyle Reuter, Galletta's Karting Alumni who has been dominating the Oswego Kartway in their première division since 2008, came back for his first Galletta's Feature Race in three years and won it all, surviving the 200 laps on top using perseverance, patience, driving ability, and a little good fortune -- all elements needed to win any Galletta's Klassic! Chris Stevens also used his mastery of scoring top-3 lap positions and narrowly snipped his brother Matt for his 2nd straight track title! By narrowly snipped, I mean 1/2 point! That was one extra lap in 2nd or 3rd place from a tie and another from 2nd place! This is why you always race every lap and never give up!
NEW... FOR THE FIRST TIME EVER...
THE GALLETTA'S KARTING SPEEDWAY ALL-TIME POINT STANDINGS:
Through the 2000, 2001, 2002, 2003, 2004, 2005, 2006, 2007 and 2008 seasons. CLICK HERE!
We also have the Oswego Kartway Gas Stocker All-Time Points Standings.
Matt's messy greenhouse garage in 2006: 12 Galletta's Go-Karts! 5 starter karts for the home drivers (Numbered 3, 4, 8, 33, and 80) and 7 rental/backup karts (numbered 0, 1, 2, 5, 6, 7, and 9) for friends, family, and first-time racers without karts to join us. All with evenly-matched Briggs and Stratton stock 5hp motors! Matt tests them periodically and they are all within 0.5 seconds close to each other in the time trials, works on them (usually giving the slowest the most effort until it is up to par) and every single one has won multiple features with different drivers. Add this to all of our friends who bring their own karts, and that is a lot of karts! This means, you can win with every single one of these karts - unless you suck! Bwhaha!

So basically, almost every single year has been progressively bigger and more competitive than the prior one, and "The Galletta Boys" have defended the honor of Galletta's every single year since its conception, finishing a distant 1-2 in the point standings year after year. More and more racers are discovered (some good friends, and some bitter enemies) every year. Will you join us? Or die fighting us? Keep the tradition alive by being a part of it! Race at Galletta's! The ghost of John J. Galletta requests you to from heaven! Defeat guys and gals who use bigger motors and watch them call you whiners! Ha! Check out the rest of the website for 2005-2007 races and pictures!!

One thing is for sure. People who take racing too seriously, and spend every cent of money they own to race don't like us. In fact, some of them actually mock or hate us. People who like to have fun racing against good driving talent for minimal investment love us. Because our intention has always been "friends-and-family-having-fun" and our motto has always been, "Professional Caliber Racing on a Yard Karter's Budget." We charge no entry fees to watch or enter a race, and the whole operation is run off of donations and gas and part money. We're not doing this for fame or fortune. We're doing this because we love to race in an organized league and we don't' want to spend all of our spare money on one hobby (we have many, and feel as if your only one hobby is motor racing, you kind of really need a life). Well? Do you like us or loathe us? Either way, you have to respect what we do. If you don't, why not come and try to show us up and beat us. Or are you afraid of what you know cannot be done? ;)
Many more pictures within the rest of the website. Do look.


Additional videos and pictures of us racing (and wrecking) on:

XtremeFotos (In "Yard' section)

Or join us in making more history! Located behind...

Please visit Galletta's Speedway racer/co-founder/co-owner Chris "Crusher" Stevens' other websites, which include over one thousand free comics, a children's book, and my Greenhouse websites:


Galletta's on:


YouTube
The Complete Race Index (Scroll up and down to navigate):



Photobucket

XtremeFotos
(Under 'Yard')