The Complete Galletta's Karting Club of Oswego NY's Race Index:


ALL-TIME STATS:
Galletta's All-Time Points.
Oswego All-Time Points.
2-Track All-Time Points
All-Time Win Stats

Please check out our sponsored links:

Welcome! We are a Karting Club that invented and races extremely affordable 5hp flathead, Single Wheel Drive "Gas stocker" karts for a Points championship every summer at Galletta's Greenhouse Karting Speedway and a traveling points show at other local area tracks when invited and allowed our own division. Hybrid between a WKA flat-kart (similar speeds, but far less cost) and a yard kart (but much stronger and faster than one) and built to race anywhere (backyard speedways or race facilities) - the cheapest competitive karting series in the world! We also have recorded weekly dirt karting classes in the Oswego area and make them available on DVD!
Galletta's Karting Club - 2009 Season, Week 4:
The Gas Flathead Championship Series of Oswego, NY continued on
Sunday, July 5th, 2009 at John J. Galletta Memorial Speedway:

Our SUNDAY, JULY 5th, 2009 Independence Day Twin-30s was a bonanza. First, we had an entertaining Rookie Powder-puff race, then a Rookie-&-Refresher heat featuring two returning vets - who hadn't raced much in the past year - and three rookies. Then, the night was wrapped up with two 10-kart 30-Lap Features as Fireworks sounded off over Oswego. Buddy Cottom took the 1st one in the Galletta's #6 holding Gary Miller off at the line, and Chris took the 2nd one in the Galletta's #8, holding off his hard-charging brother Matt by a bumper.

This makes FIVE different winners in SIX FEATURES so far, with most of the races coming down literally to the wire, with 23 different competitors total so far this season. And not one fight or complaint!

So many great shots that one video wasn't enough! Here are two YouTube videos: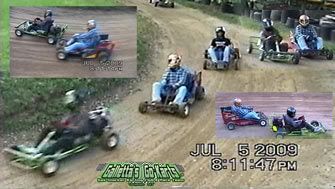 (Left) The first race of the evening was a Rookie Powder-Puff race won by Nazeha Al-Hanini, followed by Terry Miller, and Neaiamh Al-Hanini. We haven't had any powder-puff races in a while, so it was fun to see once the three lovely ladies got the hang of the karts. (Right) The second race was a "Rookie-&-Refresher" 2-heats-in-1 heat race, where returning guest-star Supermodified driver "Machine Gun" Kelly Miller took Flyin' Freddy Collins on a mid-race restart for the win. The two were very close in speed and put on a good show for the three rookies that also competed in the event, Soliman Barakat, Asaad Al-Hanini, and Austin Hicks.
Per usual, our features start in handicapped order, inverted via points-per-race and wins-per-season. We did have a few veterans missing the race due to the holiday, but fortunately, we had the rookies and the two returning vets to make a full-field. Melissa Stevens dominated the early portion of the first feature with her brand-new motor that she purchased on ebay (for $115) just a few days before. She would have won if not for her kart still being plagued by ill-handling, as she spun out while leading in the latter portion of the race. Buddy Cottom took it from there for the win, and the top five or so were all bumper-to-bumper had several back-and-forth passes. Many times we have said that when our experienced veterans are all out there, you will not find cleaner, tougher, nor more competitive racing anywhere. 1st - Buddy Cottom (#6) was followed by 2nd - Gary Miller (#24), 3rd - Chris Stevens (#5 after the #8 stalled), 4th - Matt Stevens (#33), 5th - Melissa Stevens (#80), 6th - Fred Collins (#9), 7th - Kelly Miller (#4, lost a few spots when he lost a few ball-bearings in his drive-wheel on the last lap), 8th - Asaad Al-Hanami (#2), 9th - Soliman Barakat (#1), and 10th - Austin Hicks (#24, who elected to give up his ride before the race start to the kart owner, Gary, when the #0 that he intended to drive retired for the evening with carb problems).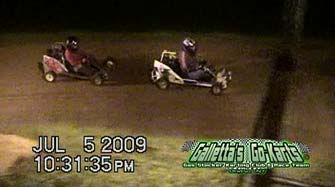 Poor Fred Collins. The man just has no good luck. He, of all drivers in Galletta's Karting history, has more races, laps, and years under his belt than most people who have scored at least one win, but still hasn't captured a checkered flag yet. He really needs to get one to solidify his ranking among the Galletta's All-time All-stars, and inverting the vets for the 2nd feature enabled him to start on the pole. That would surely help him on his quest, yes? Until the drive chain fell off on lap 1. Ah, Fred will pick one up soon, as long as he can make it out every week like he promises, as he was fast and steady all night, just needs a little luck going his way. Now here is the 2nd video, showing primarily highlights from the 2nd feature:
Chris Stevens (yours truly) then took the lead in the Galletta's #8 when everybody else piled up behind Fred, and he was relatively unchallenged for the remainder of the event until Matt worked his way up through the pack, helped by both Gary Miller (carb?) and Buddy Cottom's (tire) karts succumbing to the 60 feature laps and pulling out. This put on the occasional - but always highly competitive - battle between the Galletta's Karting Club Founders for the win, just like the early 1990s when it was ONLY Chris and Matt out there. Chris, who considers himself to be the only "Matt-stopper", was able to hold off Matt's advances, although Mighty Matty took his patented slingshot move on the final lap to try to get his 3rd win of the year. 1st - Chris (#8) gave him plenty of room, nipped him by a bumper, and took his first win since last season. 2nd - Matt Stevens (#33), 3rd - Melissa Stevens (#80), 4th - Soliman Barakat (#4), 5th - Asaad Al-Hanami (#1), 6th - Gary Miller (#24/DNF), 7th - Fred Collins (#9/DNF), 8th - Buddy Cottom (#6/DNF), 9th - Kelly Miller (#4/DNS), and 10th - Austin Hicks #0/DNS).
2009 Gas Flathead Dirt Karting Championship of Oswego Point Standings:
After 4 combined events at John J. Galletta Memorial Go-Kart Speedway from 6/8/2009 -thru- 7/5/2009.
Our complete Points Standings from the prior eight seasons are found on this webpage.
Rank

Name (Go-Karts Piloted)

Years Pro at Galletta's

Total Points (Place)

Average Points Per Event

Events

Features

Heat Wins

Feature Wins

Feature Win %

1

Matt Stevens
(Galletta's #33, 3)

14th

647.5

161.88

4

6

0

2

33%

2

Chris Stevens
(Galletta's #8, 5)

14th

621.5

155.38

4

6

0

1

17%

3

Buddy Cottom
(Galletta's #6, 4)

3rd

608.0

152.00

4

6

1

1

17%

4

Gary Miller Sr.
(Galletta's/Miller #24)

5th

560.5

140.13

4

6

0

1

17%

5

Melissa Stevens
(Galletta's #80)

3rd

510.5

127.63

4

6

1

0

0%

6

Russ Hockey
(Hockey #00, Galletta's #9)

3rd

411.0

137.00

3

4

1

0

0%

7

Jason Mills
(Galletta's #2)

9th

334.5

167.25

2

3

1

1

33%

8

Larry Phillips
(L&K Small Engine #04)

2nd

327.0

109.00

3

4

0

0

0%

9

Nick Dann
(Galletta's #7, 4, 0, 1) $

4th

308.5

102.83

3

4

0

0

0%

10

Tony Gonyear
(Galletta's #1, 7, 0)

®

226.0

113.00

2

3

0

0

0%

11

Soliman Barakat
(Galletta's #4, 1)

®

144.0

144.00

1

2

0

0

0%

12

Fred Collins
(Galletta's #9)

5th

140.0

140.00

1

2

0

0

0%

13

Asaad Al-Hanini (Galletta's #2, 7, 1)

®

137.0

137.00

1

2

0

0

0%

14

Todd Sharp
(Galletta's #9)

®

135.0

135.00

1

2

1

0

0%

15

Kelly Miller
(Galletta's #4)

3rd

132.0

132.00

1

2

1

0

0%

16

Austin Hicks (Galletta's #24)

®

118.0

118.00

1

2

0

0

0%

17

Andrew Miller
(Galletta's #0)

®

108.0

108.00

1

1

0

0

0%

18

Nazeha Al-Hanini (Galletta's #7)

®

108.0

108.00

1

2

1

0

0%

19

Terry Miller (Galletta's #5)

®

106.0

106.00

1

2

0

0

0%

20

Neaiamh Al-Hanini (Galletta's #1)

®;

104.0

104.00

1

2

0

0

0%

21

Ray Castaldo (Galletta's #7)

®

88.0

88.00

1

1

0

0

0%

22

Mike "MC" Howell (Galletta's #2)

3rd

83.0

83.00

1

1

0

0

NOTE: All karts are 1-WD and all Motors are 1-WD 5hp Gas Flatheads with Stock '90s Carb, shaved head, and select pre-approved Dyno Racing Cams. This means fast, equal speeds and, cheater-free engine-builders, all for low prices.
The Galletta's Kart Club 2009 Volume #4 DVD:
Two camera angles of the races held on July 5th, 2009. Thirteen drivers, A Rookie Powder-puff Go-Kart race, a Rookie & Returning Driver Refresher Heat, and two 10-Kart/30-Lap Features. One hour+ in highest-quality resolution. 16:9 Anamorphic widescreen video, Dolby Digital 2.0 Stereo Surround, and two camera angles of all of the action. Price $5.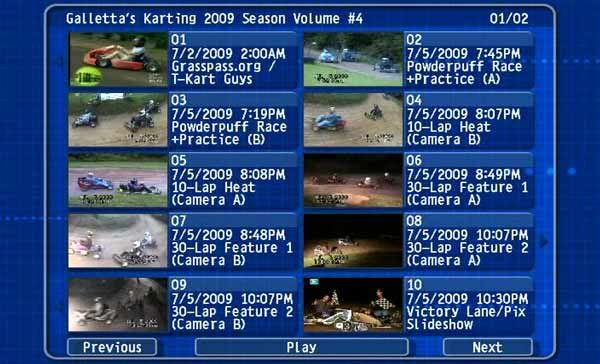 Prior Races this season:
Galletta's Kart Club - 2009 Season, Week 2 Sunday, June 14th, 2009 in Oswego, NY:
Galletta's Kart Club - 2009 Season Opener, Sunday, June 7th, 2009 in Oswego, NY:
YouTube And the complete and high quality races found on this site and YouTube can be purchased in our Galletta's Go-Kart DVD store!

FINAL NOTE: The rained-out week had the property owner delivering a warning that our racers must start to pay for the parts and gas on the karts to use them. Matt has rung up a $700+ bill servicing the 13 karts in our garage since June, and only a couple of people were paying rentals and/or donating parts and services. Unfortunately, we may have lost a couple of regular drivers who we also consider friends because they did not like hearing it, but Matt cannot pay for everybody to race while friends of people who get free rides publically trash us. He's always been too nice, and people take advantage of his kindness and race for free too much. I do this website for no pay (my donation to Matt and the club for my basic kart maintenance), and most of our guys always pay up. Plus, when people at the Oswego Kartway badmouth us, they should first build and maintain 12 equalized and race-ready karts (and help out others with their karts for cost), let your friends and family race them for either cost (and sometimes for free), then on top of that, maintain an entire track, points, website, and videos before you talk trash, boot us out for no valid nor rational reason, call us "clowns," and "GAYletta's Yard Sale." Face it... the only reason that anybody strutting around with several grand worth of karts would bother paying attention to us, let alone mocking us, is that they know that with all of that money in those cookie-cutter karts and self-perceived professionalism, they are still just "go-karts" just like we race, and they still can't even come close to putting on the show that we do on a weekly basis, so jealousy starts to sit in. They just don't like it. Though they call us "yard karts" (a complete misnomer that displays both ignorance and arrogance), we still race cleaner, have more long-time experienced vets, and put on better shows than they do with all of their cookie-cutter carting classes combined. This isn't bragging, it is just the truth as a defense against their classless badmouthing. Especially when the best race in the history of their precious little tiny track was the Oswego Speedway's Dirt Kartway's 2007 Gas Stocker Classic - which had 16 karts, 50 laps, several lead changes, several karts battling back and forth bumper-to-bumper/tire-to-tire for the lead, three different types of gas stocker motors, a few exciting (but injury-free wrecks), and lapped traffic altering the outcome of the battle more than once - all of these things make for a TREMENDOUS SHOW for the people in the audience, that cheered, "ooh-ed" and "aaahh-ed" - proven on tape (and all on DVD on this website for proof) in two-plus years of racing at that track. The Champ karts and Flatkarts - for all of their cash invested and dozens of micro-classes raced - still have never come close to that kind of show. The reason? We don't do it for "me", we don't do it to impress a big race team to "move up" to the big track, we do it for the fun of racing friends and family, AND to put on a show for everybody watching. Thank you for watching, and have a nice day! (Now watch that loudmouth braggart cheat Marsden open his fat mouth again...)
YouTube And the complete and high quality races found on this site and YouTube can be purchased in our Galletta's Go-Kart DVD store! Our race photos hosted by Photobucket.


Comments, questions, and additional info with Galletta's Kart Club drivers and officials can be found on our new message boards. ->

Our karting club's home track is located in back of:


Galletta's Greenhouses
60 County Route 20
Oswego, NY 13126-6512
(315) 343-0879 or (315) 343-4281
Need directions? Here they are!
Please visit Galletta's Speedway racer/co-founder/co-owner Chris "Crusher Comics" Stevens's other websites containing his new graphic novel, children's book, and his old old cartoon strips & comic books:





Galletta's Greenhouse & Karting Team
60 County Route 20
Oswego, NY, USA
13126-6512
Telephone:
(315) 343-0879
or
(315) 343-4281
(Ask for Matt or Chris only!)
Directions
Google website search:




Galletta's on:


YouTube
2008 DVD store
2007 DVD store
2006 DVD store
CHRUSHERCOMIX STUDIO PROJECTS
ON SALE NOW:

Galletta's
Greenhouse
Poster
$1.50



Chrusher:
End Cycle #1
PG-13 Version
$3.99

Towner Comics:
The Complete
Collection Book
$15.99
Racer and website designer Chris ChrusherComix's other websites:

Chris' Graphic Novel:



Chris' Comic Book:



Chris' Comic Strip:



Chris' Children's Book:

Our Greenhouse:
Galletta's & Oswego Stock Karting Clubs

Galletta's Go-Karts on



Photobucket