Race Index:
All-Time Galletta Points
All-Time Oswego Points

RACE ARCHIVES:


Galletta's All-Time Points.
Oswego All-Time Points.
2-Track All-Time Points
All-Time Win Stats
DRIVER PROFILE FOR NICK DANN (2006-09)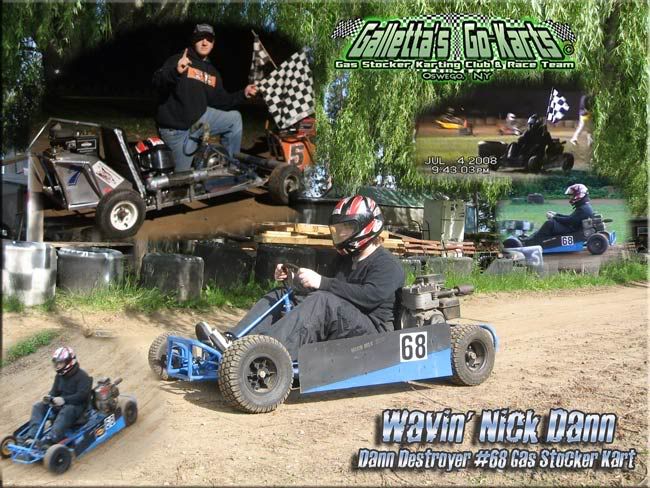 Nick Dann with his Dann Destroyer #68 & the Galletta's #7 Gas Stocker Karts (May 2008 pic by Chris Stevens).
Name:
Nick Dann
Years Racing Go-karts at Galletta's:
2006-2009. Nick took the 2010 season off due to work and the fact that he claims that he will not be able to compete until he gets back into shape, and plans to be back in 2011, 2012, and....?

Career highlights:
Three feature wins at Galletta's Greenhouse Karting Speedway and
One feature win at Oswego Speedway Kartway (Gas Flathead Division).
Places in the upper-echelon of both All-time Galletta's Greenhouse Speedway Points and
All-Time Oswego Speedway Kartway Gas 1-WD Points.
2009: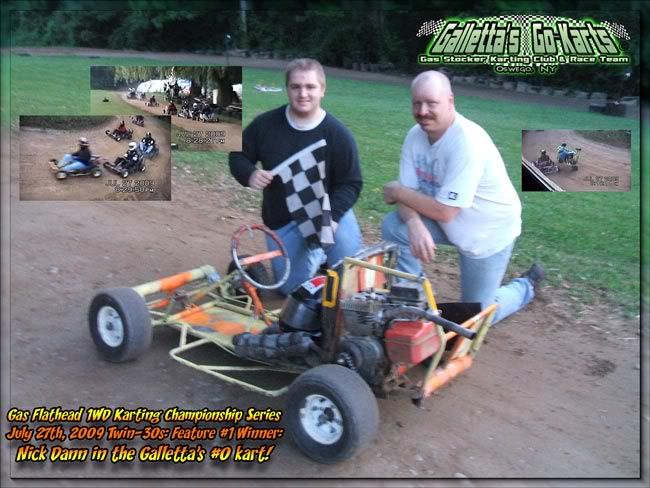 A 15-kart event on 7/27/2009, the first 30-lap feature saw Nick Dann emerge as the winner of the first 30-lapper in the Galletta's #0. Here he poses with his dad and fellow Galletta's Karting veteran, Dick Dann. It was his 3rd feature win at Galletta's and 4th overall in the 1WD Gas Flathead division. Highlights below:
2008:
Since it was so cold, we skipped our usual Fall Challenge Twin-30s for a regular 45-Lapper on Sunday, November 2nd, 2008. And it was Wavin' Nicholas Dann who passed both Larry Phillips and Gary Miller after they broke chains, and then held off the Chris and Matt Stevens to get his 2nd Feature win in two Feature races in the Galletta's #7, after going winless for 3 years before now!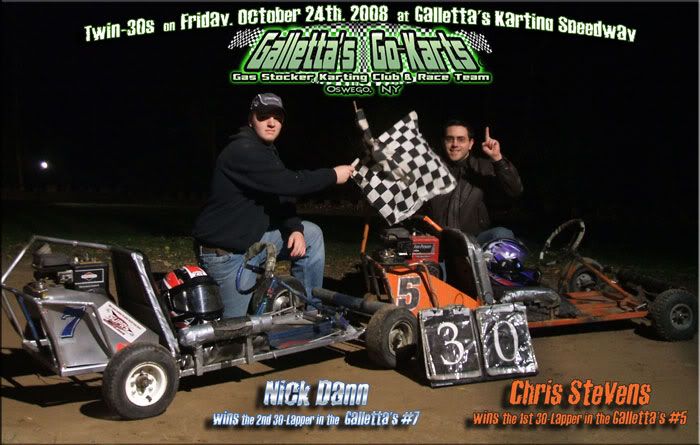 On Friday, October 24th, 2008, we held twin-30s as they are very popular with all active drivers because it gives a reset and a chance for potentially two winners per night. On a special Friday Night show (to avoid the predicted rainfalls on the weekend), Chris Stevens won the first 30-lapper in his trusty old Galletta's #5, and Nick Dann won the second; his first feature ever at Galletta's to add to his first feature ever at Oswego earlier in the year, and it comes in the Galletta's #7.

On July 4th, 2008 at Oswego Kartway, Wavin' Nick Dann (AKA "Chris Griffin" in the Dann #68) led every lap from his handicap pole sitting position to win his first feature race of his three year karting career! Nick was followed by is dad, Dick Dann (Dann #86); Chris Stevens (Galletta's #8); Matt Stevens (Galletta's #33); Wesley Stevens (Galletta's #4); Russ Hockey (Hockey #00); and Gary Miller (Miller #24). All people familiar with Galletta's Karting Club were thrilled for Nick, as he had one stolen from him earlier in the season when he was spun out by a large man who "doesn't care" and calls us "whiners" despite the fact that he himself whines and will only race people if he has a gas Animal motor vs. a limited-mod gas stocker 5hp.
| | | |
| --- | --- | --- |
| | Dick Dann passed Larry Phillips late in the race to win the 2nd 30-Lapper on October 19th, 2008 (Melissa Gabel won the 1st 30-Lapper, although Dick was in 2nd for most of that race as well). It was the 1st time that the Dann #68 kart (usually driven by his son Nick) visited victory lane at Galletta's, although Nick did score an Oswego Kartway win earlier that year on. More here. | |
2007:
Winner of the 2006-07 Funniest Visiting Karter. Won a heat in 2007, waving bye-bye to Matt and Ogre Stevens. However, due to him using time-travel to defeat them (see pictures for evidence), he earned the name, "Nick-Of-Time." The pictures are on his computer background and screensaver.
Nicknames:
Wavin' Nick Dann, Nick Of Time, Chain-Lube Man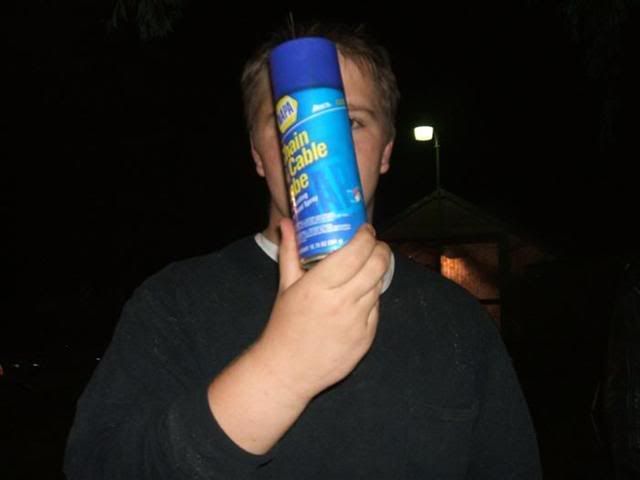 "I AM.... CHAIN-LUBE MAN!!!"
Mottos:
"Hey Matt, what're you doing to my mom?!"
"...that's what she said!"

Karts:
Team Dann (#02 #68). Driven Galletta's rentals in past. Won in the Galletta's #7.

An old shot of Nick before his Dann #68 was rebuilt.
2006:

2006/09/23 Pre-Klassic Photo- Photo by Gene Galletta, Remastered by Chris Stevens. Nick's kart has since been rebuilt several times.

Did you know? Fun Facts:
- That Nick's dad, Dick has brought a lot of visitors to the Galletta's Go-Karts website, just from people doing Google image searches for "Dick."
- His kart, the Dann Racing #68, formerly numbered #02, was a many-times-rebuilt yard kart, heavily modified for racing. Dick had the kart much longer and lower to the ground compared to its early days.
- Also, when Nick retired from regular racing, his former Dann Racing #68 was purchased and raced by AJ Nason during the 2010 Season, re-numbered #35. It was then further rebuilt by Matt and Wes Stevens.
- In addition, AJ Nason then sold the kart to Billy Ruggio, who re-numbered it to its original number... #02!
__________________________________________________
Chris Galletta-Stevens - professional cartoonist, graphic novelist & affordable website designer:

Please buy Chris's new children's book (co-created and written by Robert Buchanan)
named, Tee and Wee: Health and Nutrition for Young Earthlings, ON SALE NOW:


Buy it or get a sneak-preview.
Chris' kid-friendly/family-friendly comic strip named Towner (with over 10 years of comics):



Chris' 2007-and-up Graphic Novel, Chrusher - End Cycle:



Chris's 1988-1999 teen-to-adult comic book named "ChrusherComix" (with over 19 years of comics):

CHRISCHRUSHER's PROJECTS:
Chris' Children's Book:

Chris' Graphic Novel:



Chris' Goofy Comic Book:



Chris' Family Comic Strip: