Racing points championship racing from 1996-current at Galletta's Greenhouse's "Racing Yard Kart"/Go-Kart Speedway
Every weekend from June-October at Galletta's, and weekly all summer FORMERLY at Oswego Speedway's Dirty Kartway. .
Oswego All-Time Points.
2-Track All-Time Points
All-Time Win Stats


DRIVER PROFILE FOR TIM GALLETTA (2009-up)

Tim Galletta debuted the Sid Harvey's #54 on July 26th, 2010. Originally the 1st Dick Dann "Destroyer Chassis #86" kart slightly rebuilt by Matt and Wes Stevens with a Matt Stevens built motor and decals by Chris Stevens.
Name:
Timothy Galletta

Year Started Racing at Galletta's:
2009
Karts raced:
Sid Harvey's Tim Galletta #54, Galletta's Greenhouse #7, Galletta's Greenhouse #9
All-Time Scoring:

Career Highlights:
2012: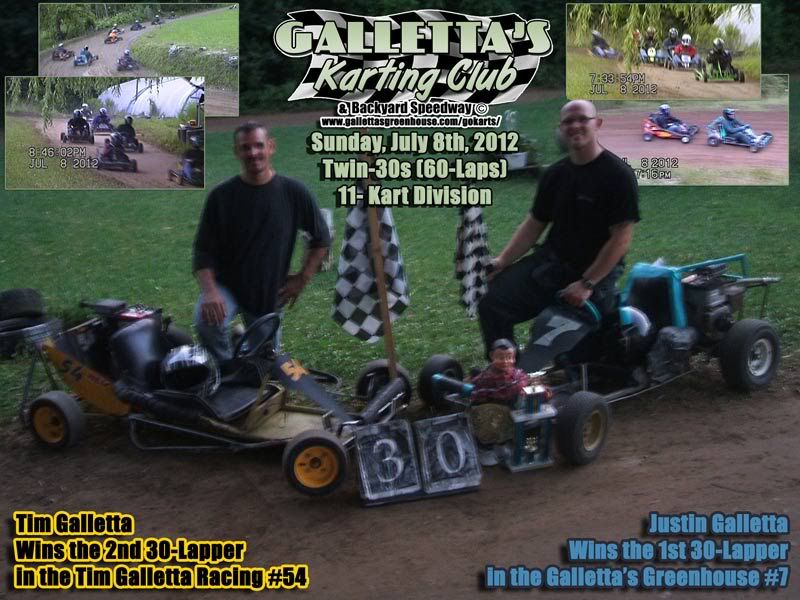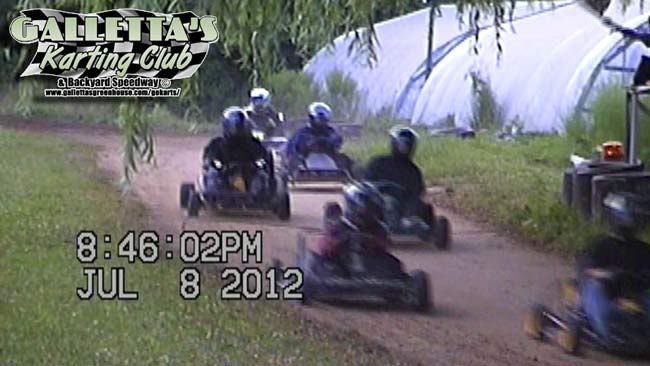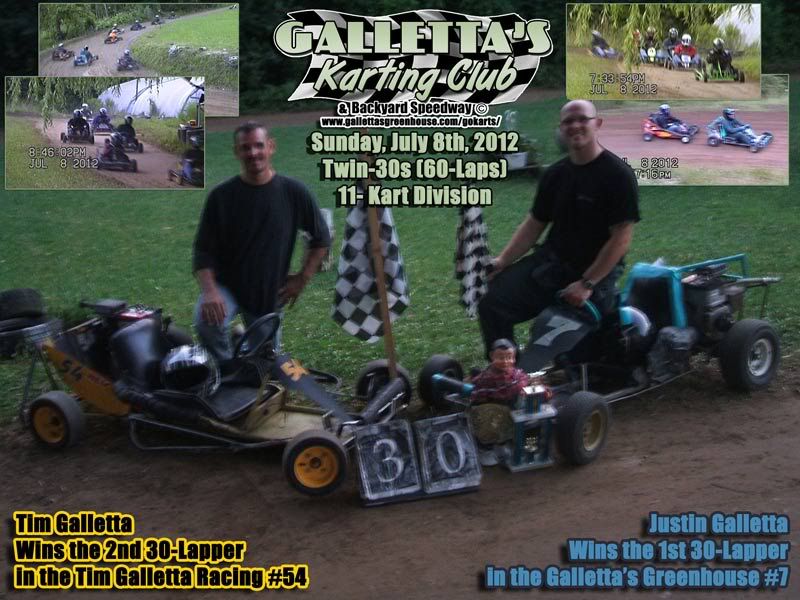 SUNDAY, JULY 8th, 2012: Father and son - Tim and Justin Galletta - took the eleven-competitor twin-30 features at Galletta's, finally breaking their cousin Matt's furious streak of FOUR straight wins to open the 2012 season. It was Tim's seventh feature win in his four year career, while his son Justin secured his second feature win in just his second season. And both look stronger and stronger with each race. Here is the story....
Unfortunately, Tim's job search left him down south for months, and for the first time since his 2009 rookie campaign, Tim missed races, including the Klassic 200.
---
2011:
Timmy posing with his kart before in the starting grid for the 16th Annual Galletta's Greenhouse Karting Klassic 200 - held on 10/8/2011.
SUNDAY, SEPTEMBER 4th, 2011: In honor of the Oswego Speedway's Supermodified Classic 200 -a race which we shaped our own karting club's season and 200-lap "Klassic" championship after - we originally planned to race on Labor Day Monday. However, due to the Oswego Classic being moved up three hours to avoid rain, we tried to race Sunday after Classic knowing that Monday could very well rain-out our race. Kenny Lindsley III flew off the track while leading most of the show, which set up Justin Galletta to lead late. But on turn 4, Justin's clutch teeth literally gave out on the spot and his father Tim Galletta took the Labor Day 45-Lapper! (Oddly, a bit of a mirror image of Otto Sitterly passing his teammate on the last turn to win the Oswego Classic 200). Our own 16th Annual Galletta's Greenhouse Karting Klassic 200-lapper (that's right, not a 40-50 Lapper, that's our regular weekly race, not a championship) will be at either the end of September or the start of October. Racers - please help us plan ahead and lock down a good date by giving us dates that you can and cannot do. Thanks! Pics, descriptions, results & points are up soon (my new work schedule has put me WAYY behind... sorry!). Check back soon for videos!
MONDAY, AUGUST 22nd, 2011: With the regularly scheduled Sunday the 21st getting a washout, our race was moved to Monday the 22nd. Randy "The Bobandi" Platt made his triumphant return from his self-imposed half-summer hiatus to promptly win his first race back relatively unchallenged, taking his first feature win of 2011. The 2nd 30-Lapper saw Chris Stevens lead the first 27 laps only to break a throttle cable, and Tim Galletta took care of the final three en route to his 2nd win of 2011.
The track was smooth and fast, and passes were at a premium. In a show of how fast and equal these karts are, the Galletta's #2 has sat idle for most of the season without a pilot, until Randy took it to victory lane just like he did last year. It is no lie, but it seems as if some people don't believe it when we say we have 14 race-ready/feature-winning/arrive-and-drive karts on site, many of which are free to drive, open to anybody who donates for gas/parts, and a good, experienced driver can win in each and any one of them on any given race. And, we can help you build your own potent/feature-winning kart as well for bottom dollar. It is proven and proven again and again, yet some weeks we don't have driver butts in the kart seats. Fortunately, this week was not amongst them, as we had 8 karts on the track... but do the math - that means there were several still sitting idle. Get out and race, people! Our 200-Lapper is coming soon, and you want to be seasoned for that one! Anybody can win, but you have to work at learning the track and the karts to do so. Join us today! Videos and race results are up here! Check back soon!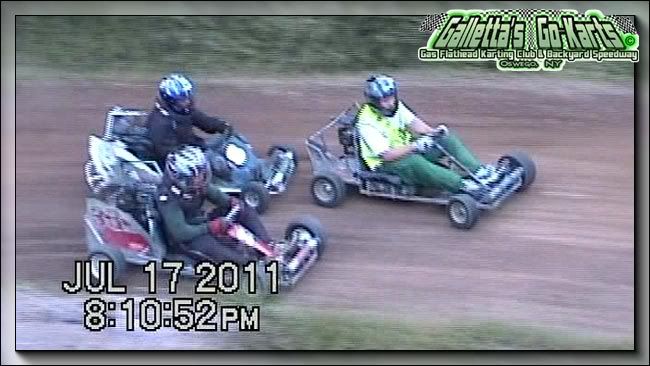 JULY 17TH, 2011: The undisputed winningest karter in Central New York did it again. Matt Stevens won the 2nd Twin-30 of the night, leading all 30 laps, but did so by actually coming in last in the first 30-lapper, which was won by his cousin Tim Galletta. 60 laps of racing only saw 1 caution for one spinout. Clean, competitive racing from green to checker. Come back later today and again all week for more updates. Also, we are looking at Saturday race for next weekend to get more drivers (per request of some drivers who WILL come opposed to leaving Sundays open for a few drivers who used to and might come, but don't anymore), as so far this season, 7-9 drivers per class a week may be cool beans for gyno-exam seat cookie-cutter kart kiddie track classes, but it is not how grown men (and woman) drivers like to race. Contact us and more will be posted soon.
8/10/2011 Update: 7/17/2011' TWIN 30s ON TWO YOUTUBE VIDEOS ARE UP (30 minutes of the COMPLETE races online!!!)!
---
2010:

Timmy posing with his kart before in the starting grid for the 15th Annual Galletta's Greenhouse Karting Klassic 200 - held on 10/2/2010.
2010 Season, Event #14- Sunday, September 5th, 2010 - Pre-Classic Twin-30s Night: Tim Galletta won the 2nd of two 30-lap features at Galletta's in the Sid Harvey/Galletta #54.
2010 Season, Event #10- Sunday, August 8th, 2010 - A "Snooze-U-Lose Twin-30s Night" was in store at Galletta's Backyard Karting Speedway, and Timothy Galletta became the 1st 2-feature winner of the season (but first in his Sid Harvey's #54 kart) when he took Feature #1. His second career win came before the anniversary of his 1st race entered in August 2009, showing how far Tim has progressed - He's one of the top-guns on the track in less than one whole racing season.

2010 Season, Event #2- Monday, June 14th, 2010:
A 55-Lap Feature was in store for 12 karts - including four 1st-time drivers - and it saw another new entry into Galletta's Victory Lane: Tim Galletta - cousin of club founders Chris and Matt - took an impressive win in the Galletta's Greenhouse #7 kart, his 1st career feature victory coming in start of his 2nd season of racing. Race results on this page. YouTube highlights, pics and points are up on the race page.

---
2009:
Although Tim heard about his cousins Matt and Chris Stevens, along with his uncle Wes "TrOgre" Stevens racing -- and had seen the then simple track back in the 1990s, and had seen the karts in the early years (box stock 5hp yard karts) -- he had absolutely no idea how super-fast the karting club at his late grandfather's greenhouse had become until he tried them out at the 1st All-Galletta family reunion cookout and exhibition go-kart race in 2009. He had no idea it had changed so much since the 1990s... and that it was this fast and this much fun. Tim exclaimed on more than one occasion, "If I had known, I'd been racing for years!" He raced in the 2009 All-Galletta race and got the bug. Big time. He now makes every single race that he is in town ever since at Galletta's.
Tim posing with the Galletta's #9 at the 14th Annual Galletta's Go-Kart Klassic 200 on 10/3/2009, his 1st Klassic event!

Tim posing with the Galletta's #9 at the 8/23/2009 All-Galletta Race, his 1st race at Galletta's Karting Speedway!
This pic may very well be the most hilarious profile pic in club history. No... wait... there is another....
Brian Galletta - the only competitor who has had any substantial prior experience - drew the pole for the FIRST EVER ALL-GALLETTA race - which featured all cousins of Galletta's Karting founders Chris and Matt Stevens, and also all grandsons (and one great-grandson) of Galletta's Greenhouse founder John J. Galletta. The draw made it very easy for him to use his knowledge of the karts and track (including a feature win, some heat wins, time-trialing 2nd fastest and and leading a large chunk of the 2003 Klassic) and dominate all 30 laps unchallenged for the win, his 2nd career feature win at Galletta's.
---
More Galletta's Go-Karting flips, crashes and tight racing carting highlights on:


YouTube And the complete and high quality races found on this site and YouTube can be purchased in our Galletta's Go-Kart DVD store!





Comments, questions, and additional info with Galletta's Kart Club drivers and officials can be found on our new message boards. ->
Click Here for Facts, Questions & Answers.
Click here for Basic rules, regulations, and prices.

Our karting club's home track is located in back of:


Galletta's Greenhouses
60 County Route 20
Oswego, NY 13126-6512
(315) 343-0879 or (315) 343-4281
Need directions? Here they are!
Please visit Galletta's Speedway racer/co-founder/co-owner Chris "Crusher Comics" Stevens's other websites that include my cartoons, comic books, children's book, and family greenhouse:


This website is owned, created, maintained, and copyrighted © by Chris "Chrusher Comix" Stevens (including all text, pictures, artwork, video clips, and descriptions). The views expressed are not necessarily the opinions of others at the Galletta's Go-Kart Club or Galletta's Greenhouse (unless otherwise noted). This site is meant to both document the races at Galletta's Go-Kart Club and also get a good laugh with some humor by a cartoonist (AKA, me), so lighten up.
CHRUSHERCOMIX STUDIO PROJECTS
ON SALE NOW:


Galletta's Go-Karts 1098-2008 Poster
$1.50

Galletta's
Greenhouse
Poster
$1.50



Chrusher:
End Cycle #1
PG-13 Version
$3.99


Chrusher:
End Cycle #1
R-Rated Version
$3.99


Towner Comics:
The Complete
Collection Book
$15.99
CHRISCHRUSHER's PROJECTS:
Chris' Children's Book:

Chris' Graphic Novel:



Chris' Goofy Comic Book:



Chris' Family Comic Strip: