Race Index:

Galletta's All-Time Points.
Oswego All-Time Points.
2-Track All-Time Points
All-Time Win Stats


DRIVER PROFILE FOR JUSTIN GALLETTA (2009-Current)
[PAGE MOVED TO NEW SITE HERE.]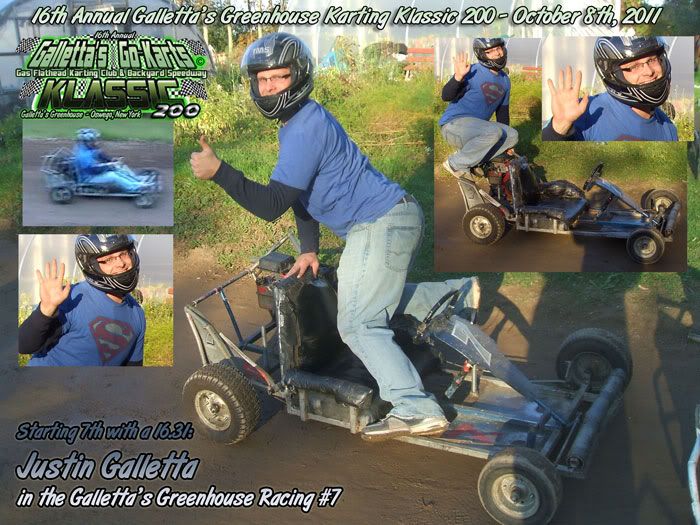 10/8/2011 - 16th Annual Galletta's Greenhouse Karting Klassic 200 lineup:
Justin Galletta piloting the Galletta's Greenhouse Racing #7 Kart before the 2011 Galletta's Karting Klassic 200!
To add puzzlement to this picture, Justin's middle name was changed to Beiber recently. Hmm....
Name:
Justin Galletta
Beiber sellin' as boy! :D - until he comes BACK to racing!
Year Started Racing at Galletta's: 2009
First full year of competition: 2011
Sold @$$ on the family's race club for a woman: 2012
Fun Facts:
Justin is the eldest son of fellow racer Tim Galletta, and brother of Joe Sereno.
He also cousins-once-removed from Galletta's Karting Club founders Matt and Chris Stevens.
Justin is built like a $hit brick house plays football for the Syracuse Shock, and is the starting middle linebacker.
Justin's placement in The All-Time Galletta's Speedway Point Standings.
All-Time Scoring:
Career Highlights:
2012: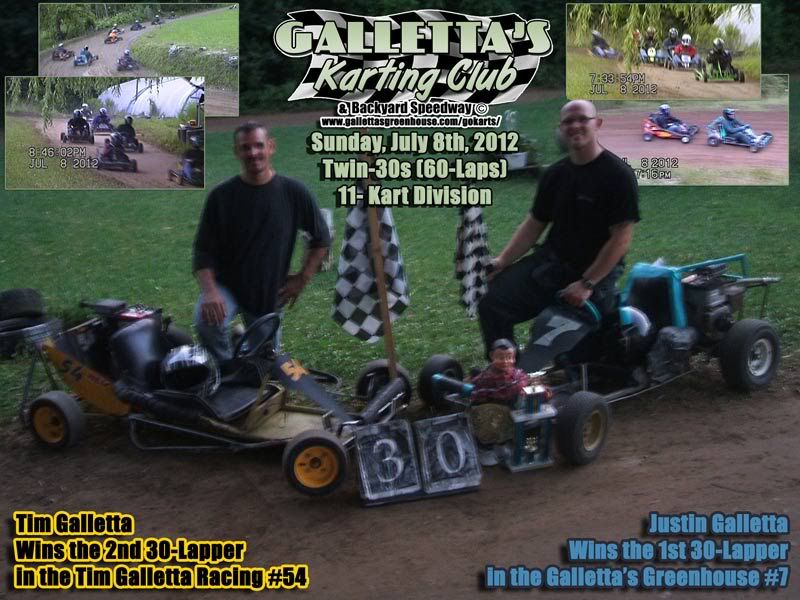 \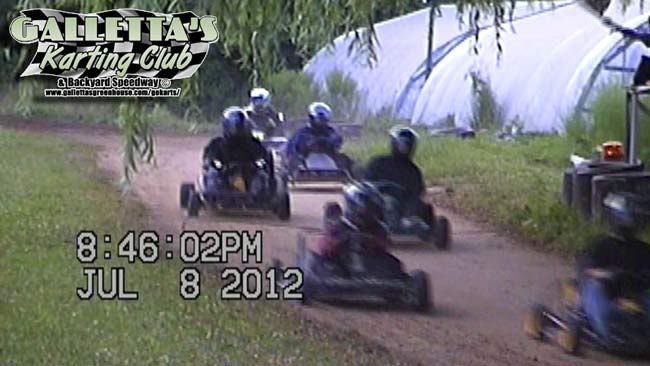 SUNDAY, JULY 8th, 2012: Father and son - Tim and Justin Galletta - took the eleven-competitor twin-30 features at Galletta's, finally breaking their cousin Matt's furious streak of FOUR straight wins to open the 2012 season. It was Tim's seventh feature win in his four year career, while his son Justin secured his second feature win in just his second season. And both look stronger and stronger with each race. Here is the story....
Unfortunately, due to us getting out too late, getting a girlfriend, his dad Tim's job search left him down south, Justin bgan sellin' @$$ on the club and started missing races, including the Klassic 200.
---
2011: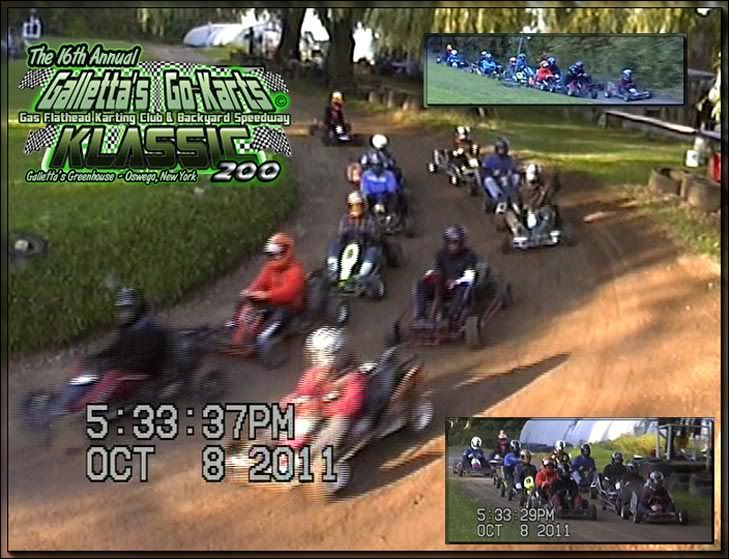 Justin did very well in the 16th Annual Galletta's Karting Klassic 200 in 2011 - his first!
But Justin's backy-poo started hurting and he started selling @$$ on his racing buddies and quit. I see a theme building here...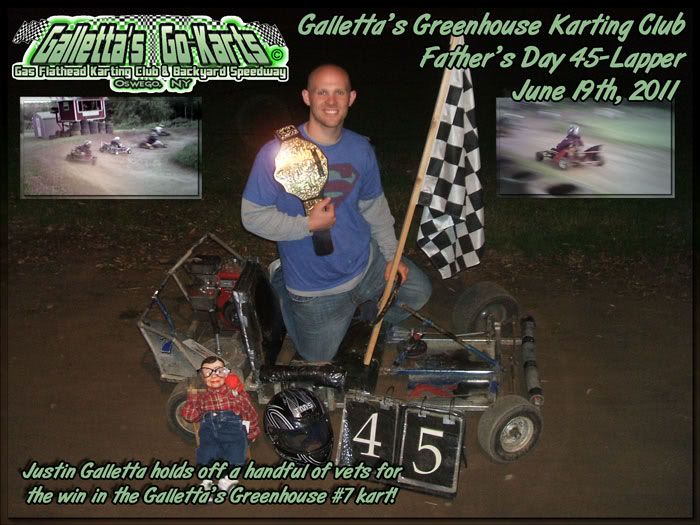 FATHER'S DAY 45 ON JUNE 19TH, 2011: Week 3 of the Galletta's Greenhouse Karting Club's 2011 Season saw Rookie Justin Galletta - driving the Galletta's Greenhouse #7 kart - hold off challenges from several veterans, including his father Tim Galletta, and cousins-once-removed Matt and Chris Stevens to duplicate his brother's feat the prior weekend and win his first feature.
---
2009:

Justin posing with the Galletta's #1 at the 8/23/2009 All-Galletta Race, his 1st race at the track in back of his late great-grandfather's greenhouse!
Brian Galletta - the only competitor who has had any substantial prior experience - drew the pole for the FIRST EVER ALL-GALLETTA race - which featured all cousins of Galletta's Karting founders Chris and Matt Stevens, and also all grandsons (and one great-grandson) of Galletta's Greenhouse founder John J. Galletta. The draw made it very easy for him to use his knowledge of the karts and track (including a feature win, some heat wins, time-trialing 2nd fastest and and leading a large chunk of the 2003 Klassic) and dominate all 30 laps unchallenged for the win, his 2nd career feature win at Galletta's.


---
More Galletta's Go-Karting flips, crashes and tight racing carting highlights on:

YouTube And the complete and high quality races found on this site and YouTube can be purchased in our Galletta's Go-Kart DVD store!



Comments, questions, and additional info with Galletta's Kart Club drivers and officials can be found on our new message boards. ->
Click Here for Facts, Questions & Answers.
Click here for Basic rules, regulations, and prices.

Our karting club's home track is located in back of:


Galletta's Greenhouses
60 County Route 20
Oswego, NY 13126-6512
(315) 343-0879 or (315) 343-4281
Need directions? Here they are!
Please visit Galletta's Speedway racer/co-founder/co-owner Chris "Crusher Comics" Stevens' other websites that include my cartoons, comic books, children's book, and family greenhouse:






This website is owned, created, maintained, and copyrighted © by Chris "Chrusher Comix" Stevens (including all text, pictures, artwork, video clips, and descriptions). The views expressed are not necessarily the opinions of others at the Galletta's Go-Kart Club or Galletta's Greenhouse (unless otherwise noted). This site is meant to both document the races at Galletta's Go-Kart Club and also get a good laugh with some humor by a cartoonist (AKA, me), so lighten up.
CHRUSHERCOMIX STUDIO PROJECTS
ON SALE NOW:


Galletta's Go-Karts 1098-2008 Poster
$1.50

Galletta's
Greenhouse
Poster
$1.50



Chrusher:
End Cycle #1
PG-13 Version
$3.99


Chrusher:
End Cycle #1
R-Rated Version
$3.99


Towner Comics:
The Complete
Collection Book
$15.99
CHRISCHRUSHER's PROJECTS:
Chris' Children's Book:

Chris' Graphic Novel:



Chris' Goofy Comic Book:



Chris' Family Comic Strip: