Racing points championship racing from 1996-current at Galletta's Greenhouse's "Racing Yard Kart"/Go-Kart Speedway
Every weekend from June-October at Galletta's, and weekly all summer FORMERLY at Oswego Speedway's Dirty Kartway. .
Oswego All-Time Points.
2-Track All-Time Points
All-Time Win Stats
Kiddie racing Recap
DRIVER PROFILE FOR RANDY PLATT (2003-2011)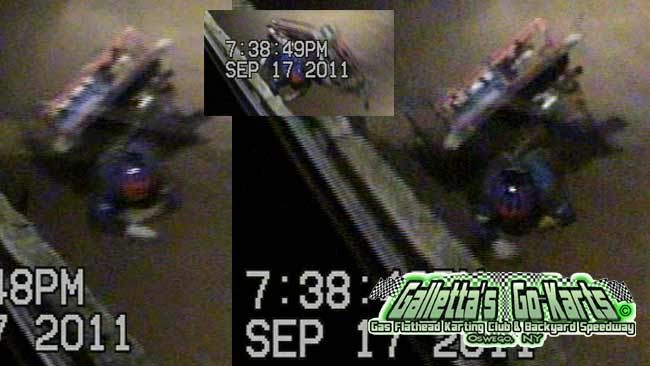 SATURDAY, SEPTEMBER 17th, 2011: Saw Randy Platt take the lead around mid-way and hold off everybody else in the extremely close and competitive 45-lapper to take another win in his own hand-crafted Plattitude #187 B!tc#. But the other hand-crafted Plattitude kart, the #287, broke the drive-wheel axle bolt and flipped violently on top of his good buddy who introduced him to the GKC and bought the kart, Brian Galletta.
Randy "The Bodacious Bobandi" Platt, lookin' all hard n' $#!t, scored a dominant victory in his Murder #187 kart on 9/12/2010, which he has worked tirelessly on with Matty-Joey Stevens for a few months for this moment of glory (no holes included, you twisted sickos). Here he is posing with co-founders of the Galletta's Karting Club Matt and Chris Stevens, and Wesley's detached-parasitic-twin-mini-brother, Ogie.
Name:
Randy Platt

Nicknames:
Bobandi, Boban-the-man, Bobambi, Bobambi-Killah, Bodacious Bobandi, Hard-N'-S#it Platt.
Castaldo
Year Started Racing at Galletta's:
2003-current


There's that jive-talkin' honkey Randy in the 2003 Galletta's Karting Klassic!

Career Highlights:

Randy's placement in The All-Time Galletta's Speedway Point Standings.



Randy won three features during the 2010 season and two features in 2011. He also time-trialed 2nd in the 16th Annual 2011 Klassic 200 in his #187, and finished 3rd. Proving that real drivers can pilot any Galletta's Go-Kart to victory with talent, experience, and hard work, much to the chagrin of countless bad drivers who tried and failed here, he won in the Galletta's Greenhouse #2, his own Murder #187, and the Galletta's Greenhouse #5. He also build an exceedingly quick #28 kart purchased by his good buddy Brian Galletta, sumbitch. Boban' definitely is the man!
Bobandi was so ready to race, he could not even be bothered to take off his helmet and pose for his Galletta's Klassic 200 Pre-Race Picture! He will #uc( you up, son.

Fun-Fact:
Randy Platt began racing in 2003. He took a few years off racing karts and during this period had a serious ATV accident where he was airlifted upstate. But he is too tough for a broken neck and collapsed lung to stop, yo. Ran re-found our club and resumed in 2010, scoring his 1st feature win on 8/8/2010. Randy built his own kart (using the front end of an old racing kart chassis that Chris sold him that once belonged to Brian Bortel that before that belonged to Kelly Miller) with the help of Matt, Wes and Chris Stevens, but prefers the Galletta's Greenhouse #2 kart's handling. Randy was also the only man ever to be knocked out at a Galletta's race in a freak accident in 2003. He also plans to be the first person to knock someone out at a Galletta's race, probably you, beotch.

In addition to racing, Boban-the-man also shoots things. Here he is after a triumphant battle with a buck!

...and two turkeys, which he killed on the back stretch of Galletta's Greenhouse International Backyard Dirt Karting Speedway of Oswego Town shortly after the 2011 Klassic!

Although we at Galletta's believe that time-travel and living corpse zombies are scientific impossibilities, this does not stop Ran-Ran-Boban', as he appears to have mysterious, time-travelling abilities. He is seen here, freakin' your mind out, oddly posing in the mid-1970s looking like a mass-murdering, corpse-like zombie-clown, years before he was born, then re-appeared in 2010 in the same Disco-cat rug-cuttin' Ogarian jacket. Dude is bad-@$$!:
More Galletta's Go-Karting flips, crashes and tight racing carting highlights on:

YouTube And the complete and high quality races found on this site and YouTube can be purchased in our Galletta's Go-Kart DVD store!



Comments, questions, and additional info with Galletta's Kart Club drivers and officials can be found on our new message boards. ->
Click Here for Facts, Questions & Answers.
Click here for Basic rules, regulations, and prices.

Our karting club's home track is located in back of:


Galletta's Greenhouses
60 County Route 20
Oswego, NY 13126-6512
(315) 343-0879 or (315) 343-4281
Need directions? Here they are!
Please visit Galletta's Speedway racer/co-founder/co-owner Chris "Crusher Comics" Stevens's other websites that include my cartoons, comic books, children's book, and family greenhouse:






This website is owned, created, maintained, and copyrighted © by Chris "Chrusher Comix" Stevens (including all text, pictures, artwork, video clips, and descriptions). The views expressed are not necessarily the opinions of others at the Galletta's Go-Kart Club or Galletta's Greenhouse (unless otherwise noted). This site is meant to both document the races at Galletta's Go-Kart Club and also get a good laugh with some humor by a cartoonist (AKA, me), so lighten up.
CHRUSHERCOMIX STUDIO PROJECTS
ON SALE NOW:


Galletta's Go-Karts 1098-2008 Poster
$1.50

Galletta's
Greenhouse
Poster
$1.50



Chrusher:
End Cycle #1
PG-13 Version
$3.99


Chrusher:
End Cycle #1
R-Rated Version
$3.99


Towner Comics:
The Complete
Collection Book
$15.99
CHRISCHRUSHER's PROJECTS:
Chris' Children's Book:

Chris' Graphic Novel:



Chris' Goofy Comic Book:



Chris' Family Comic Strip: