Racing points championship racing from 1996-current at Galletta's Greenhouse's "Racing Yard Kart"/Go-Kart Speedway
Every weekend from June-October at Galletta's, and weekly all summer FORMERLY at Oswego Speedway's Dirty Kartway. , Brian Galletta time trialed the coveted pole position and led the first portion of the race going away in his brand-new Bran Galletta "Doggy Style" #13 kart - just finished the day of the race!
SUNDAY, JULY 15th, 2012: Brian Galletta - one of the original members of the Galletta's Karting Club - got his first feature win in eight years by winning the 2nd 30-Lapper in his Plattitude #287 (chassis built by Randy Platt, motor by Matt Stevens). And even though Dave Spanfelner, Matt Stevens, and Chris Stevens all almost took the win in the first feature, it was Melissa Stevens who evaded several spinning and wrecking karts to take it in her Scissor's-n-Fur #19. The story is here....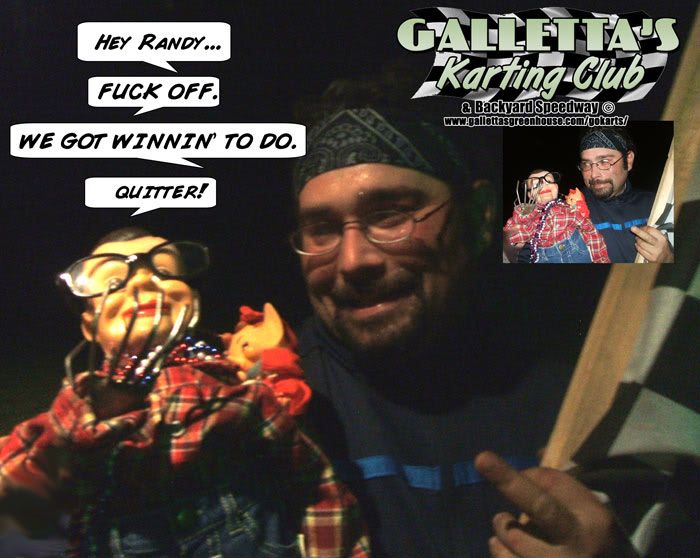 After his win, Brian (and Ogie) taunt good buddy Randy Platt who was one of his self-imposed sabatticals from racing.
SATURDAY, JUNE 23rd, 2012: Brian Galletta deserved to win this one. He has raced for years - being one of the original members of the club that his cousins founded - with only one regular feature win to his credit (that happened so long ago--2004--most of us forgot about it, including himself, and a second "All-Galletta" race where it was technically a rookie race where he was the only experience driver on the track at the time). He had been fast in prior Klassics. And tonight, he led fifty four of the first fifty-six laps - most being hounded by his cousins Chris and Matt - and at times pulled away from the pack, before he started slowing down and... oops, Matt did it again. Here is the tale...
2011 saw a return to regular racing for Brian, as his arm recovered enough to handle full-time racing again. He purchased his good buddy Randy Platt's #28 kart in mid-2011 and hasn't missed a race since.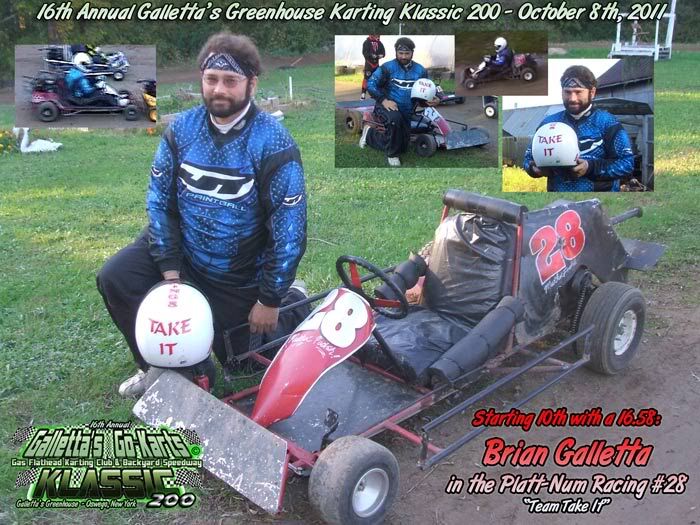 Brian Galletta piloting the Platt-Num/"Team Take It" #28 Kart at the
16th Annual Galletta's Greenhouse Karting Klassic 200 lineup on 10/8/2011.
Due to multiple surgeries on his arms for dialyses, he could not race full-time as he wished to. But he has raced when he could, including regularly between 1990s-2004, but only occasionally from 2005-2010.

Brian posing with the Galletta's #5 at the 8/23/2009 All-Galletta Race! He drove the #4 and #5 in 2009.
Brian Galletta - the only competitor who has had any substantial prior experience - drew the pole for the FIRST EVER ALL-GALLETTA race - which featured all cousins of Galletta's Karting founders Chris and Matt Stevens, and also all grandsons (and one great-grandson) of Galletta's Greenhouse founder John J. Galletta. The draw made it very easy for him to use his knowledge of the karts and track (including a feature win, some heat wins, time-trialing 2nd fastest and and leading a large chunk of the 2003 Klassic) and dominate all 30 laps unchallenged for the win, his 2nd career feature win at Galletta's.

2005-08:

Brian missed the entire crazy saga of the OHV Outlaws and the Oswego Speedway's Dirt Kartway drama during his hiatus from racing.

2004:

Won a feature in 2004 before dialysis surgeries to his arm took him out of regular competition for four years. From early 2004-mid 2009, Brian didn't race at all, although he came out to see a race from time to time.

(Above) Time Trialed 2nd fastest time at the 2003 Galletta's Klassic 100, and led a large portion of the race before his kart fell apart from under him (Our Karting Klassic is a marathon, and patience is key).

Karts Raced:
Raced several Galletta's Greenhouse karts over the years, including the #1, 6, and 7. The steering wheel on the #1 is permanently damaged and a small fence in front of the camera tower is forever warped due to some rather humorous accidents back in the day thanks to Brian.
Year Started Racing at Galletta's: Brian was one of the original Galletta's Karters, starting in the early-to-mid 1990s when it was just his cousins Chris & Matt and uncle Wes out there and we were all just yard karts with box stock 5hp flatheads, small yard kart tires, no stagger and small, easily-breakable chains (since then, we've come along way as Brian had noted after a few years away from our sport - the only thing separating us from WKA-type karting is the money and BS involved). Therefore, his points during these early years went unrecorded in our modern 2000-and-up stats.


Brian Galletta (nicknamed "Bowser" after the Super Mario Kart character due to his look in the kart) raced on and off from the 1990s through the early 2000s. Brian raced 5 events in 2000. Here he is rounding out the field in the then 80-Lap Klassic, held on September 30th, 2000.
More Galletta's Go-Karting flips, crashes and tight racing carting highlights on:

YouTube And the complete and high quality races found on this site and YouTube can be purchased in our Galletta's Go-Kart DVD store!





Comments, questions, and additional info with Galletta's Kart Club drivers and officials can be found on our new message boards. ->
Click Here for Facts, Questions & Answers.
Click here for Basic rules, regulations, and prices.

Our karting club's home track is located in back of:


Galletta's Greenhouses
60 County Route 20
Oswego, NY 13126-6512
(315) 343-0879 or (315) 343-4281
Need directions? Here they are!
Please visit Galletta's Speedway racer/co-founder/co-owner Chris "Crusher Comics" Stevens's other websites that include my cartoons, comic books, children's book, and family greenhouse:






This website is owned, created, maintained, and copyrighted © by Chris "Chrusher Comix" Stevens (including all text, pictures, artwork, video clips, and descriptions). The views expressed are not necessarily the opinions of others at the Galletta's Go-Kart Club or Galletta's Greenhouse (unless otherwise noted). This site is meant to both document the races at Galletta's Go-Kart Club and also get a good laugh with some humor by a cartoonist (AKA, me), so lighten up.
CHRUSHERCOMIX STUDIO PROJECTS
ON SALE NOW:


Galletta's Go-Karts 1098-2008 Poster
$1.50

Galletta's
Greenhouse
Poster
$1.50



Chrusher:
End Cycle #1
PG-13 Version
$3.99


Chrusher:
End Cycle #1
R-Rated Version
$3.99


Towner Comics:
The Complete
Collection Book
$15.99
CHRISCHRUSHER's PROJECTS:
Chris' Children's Book:

Chris' Graphic Novel:



Chris' Goofy Comic Book:



Chris' Family Comic Strip:


<font size="1" chris'="" family="" greenhouse:="">