Galletta's All-Time Points.
Oswego All-Time Points.
Race Index:


Please support this website by checking out our advertisers: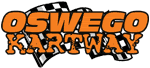 Welcome! We are a Karting Club that invented and races extremely affordable 5hp, Single Wheel Drive "Gas stocker" karts for a Points championship every summer at Galletta's Greenhouse Karting Speedway and a Gas Stocker division at Oswego Speedway's Clay Kartway. Hybrid between a yard kart and a WKA kart and can race anywhere! We also record weekly dirt karting classes in the Oswego area and make them available on DVD! See more below!
THE GALLETTA'S KARTING CLUB'S LIVE CHAT ROOM:
We are a homemade and inexpensive alternative to the costly WKA-type karting series. Invented in the early 1990s essentially as a "Racing Yard Kart" carting league, and running collectively hundreds of drivers in hundreds of races on two tracks every Summer-through-Fall in Central NY. Points standings and online descriptions weekly. Join us racing by either building your own or renting one of our team backup karts. Please read on and learn more about our extremely affordable brand of highly competitive racing! We're always looking for new racers! Start racing, affordably, today!
The Galletta's Go-Karting Club was founded by brothers Matt and Chris Stevens in the early 1990s when they modified yard karts for racing purposes. They are the inventors of "clockwise 5hp flathead gas stocker kart" racing, and have a 13-kart race team that includes several backup karts available to be rented and raced at both Galletta's and Oswego Speedway all summer. Invented with specifically "gas stock 5hp motor" and "Single Wheel Drive" rules so that a person doesn't have to spend thousands of dollars to race in extremely competitive racing events, the class grows in talent and competition every single year. Join us by building your own kart for around $500 or rent one of our team karts on Summer Thursdays or Summer Sundays in Oswego, NY!


The Oswego Gas Stocker Kart Club races at Galletta's Greenhouse Kartway & Oswego Speedway Kartway.

Due to the fact that the karts are so affordable and the oldest veterans have been racing for nearly two decades, it is one of the most difficult karting divisions to win at, but yet you can be instantly competitive for just a couple hundred dollars IF you're a good driver. You can't outspend your opponent due to our gas-powered stock-only rule, so you must out-race them and out-setup them. In fact, nobody has ever defeated Matt & Chris in the open challenge: race a stock 5hp flathead and stop them from scoring 1st & 2nd in a points season. Though hundreds of people have tried in hundreds of races since the early 1990s, Chris and Matt have scored 1 & 2 every year. But it's not just them you have to race. Our regular drivers are all talented and experienced. You can prove your skills against the winningest karters in the local area AND you won't even have to spend a lot of money to get started! We dare you to try! There is no other organized race club in the area can you race your own kart for free, rent a competitive kart for $15 (for 50-60 laps on a large track), and have full points records back nearly a decade. Nothing can beat the speed and competition for the price anywhere in the world. Nearly 200 different drivers in nearly 200 events since 2000 can't be wrong. We race every weekend from June through October at Galletta's. Make your own or rent one of our racing team karts. Sound like fun? Read on, explore the website, and join us!

YouTube And the complete and high quality races found on this site and YouTube can be purchased in our Galletta's Go-Kart DVD store!


Comments, questions, and additional info with Galletta's Kart Club drivers and officials can be found on our new message boards. ->

Our karting club's home track is located in back of:


Galletta's Greenhouses
60 County Route 20
Oswego, NY 13126-6512
(315) 343-0879 or (315) 343-4281
Need directions? Here they are!
Please visit Galletta's Speedway racer/co-founder/co-owner Chris "Crusher Comics" Stevens's other websites containing his new graphic novel, children's book, and his old old cartoon strips & comic books:





Galletta's Greenhouse & Karting Team
60 County Route 20
Oswego, NY, USA
13126-6512
Telephone:
(315) 343-0879
or
(315) 343-4281
(Ask for Matt or Chris only!)
Directions





Galletta's on:


YouTube
2008 DVD store
2007 DVD store
2006 DVD store
Racer and website designer Chris ChrusherComix's other websites:

Chris' Graphic Novel:



Chris' Comic Book:



Chris' Comic Strip:



Chris' Children's Book:

Our Greenhouse:
Galletta's & Oswego Stock Karting Clubs

Melissa G's
Scissors N' Fur
Galletta's Go-Karts on



Photobucket


Other racing websites:

Oswego Speedway
Where we've attended countless races for decades and race carts in the Summer since '06: