Sponsored links:

ADAM LYTLE | LYTLE RACING #33c (2012)

Name:
Adam Lytle

Kart:
Lytle Racing #33c

Fun Facts:
Before the start of the 2012 season, Adam purchased the former Gary Miller #24 (2005-10), a hybrid Galletta-class racing kart transformed by Dick Dann in 2007 from a Dingo yard kart that - according to Gary - once belonged to a young Kyle Reuter. It was stored by and maintained by Matt Stevens until Gary left the club in anger, selling it to Thomas Flett. Racing in one wreck-prone Fall Rookie Race, it went unused for a full year before Adam purchased it and put it back into regular competition. Adam has been friends with several Galletta's racers since childhood, but only joined the racing in 2012.

All-Time Points Standings:
Click here to see Adam's place in the Galletta's All-Time Points & Wins Standings

Race Notes / Career Highlights:
2012:

Adam commenced his rookie season on

June 10th, 2012

. Unfortunately, a worn motor and nagging mechanical bugs led to Lytle piling up many DNF's and kept him from competing for his first win in his rookie season.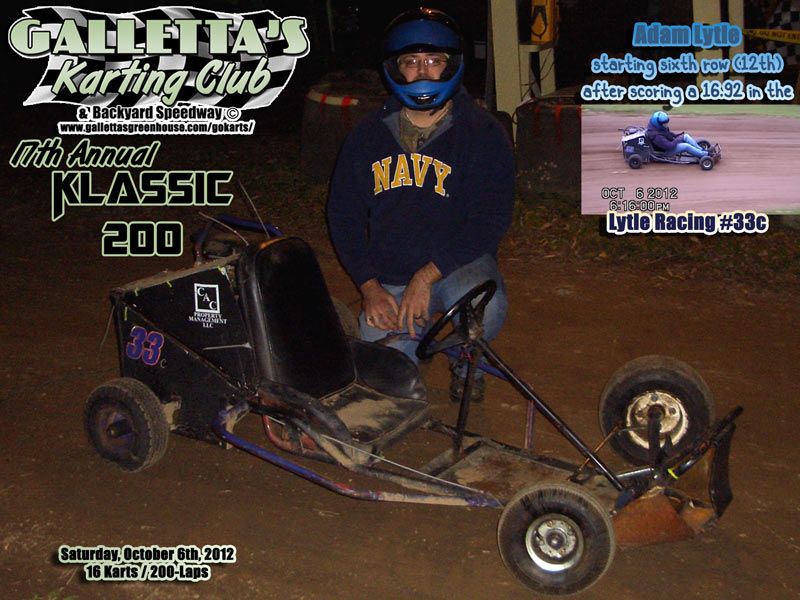 Adam posing before the 17th Annual Galletta's Greenhouse Karting Klassic 200 on 10/6/2012.
NOW YOU CAN COMMENT ON EVERY RACE ON GALLETTA'S KARTING CLUB'S WEBSITE!
Just sign in via your Twitter, Facebook, BlogSpot, Yahoo or other Social Networking ID and post:

Galletta's Greenhouse's Karting Club Facebook Comments

Galletta's Greenhouse Gas Flathead Dirt Karting Club & Backyard Speedway
60 County Route 20
Oswego, NY, USA
13126-6512
Telephone:
(315) 343-0879
or
(315) 343-4281
(Ask for Matt or Chris only!)
Directions
ChrusherComix Google website search: