Race Index:

Galletta's All-Time Points.
Oswego All-Time Points.
2-Track All-Time Points
All-Time Win Stats
DRIVER PROFILE FOR RUSS HOCKEY (2007-10)
Russell Hockey posing with his #00 kart after he time trialed on the pole and right before he led 152 out of 200 laps in the 2009 Galletta's Klassic 200 on October 3rd, 2009.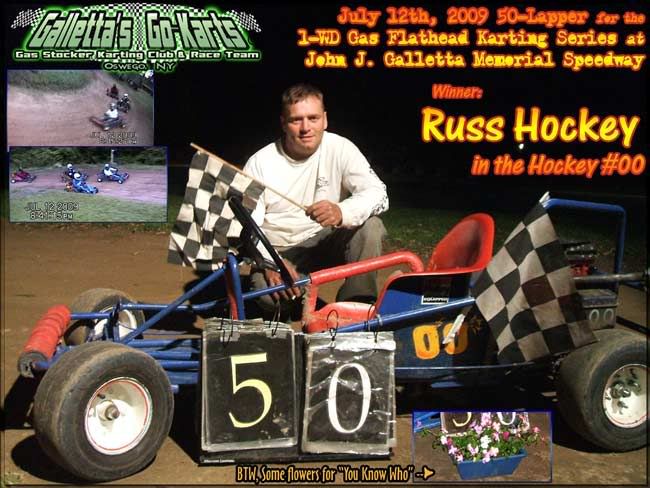 Russell Hockey won a 50-lapper on July 12th, 2009, his 2nd career win. Russ dominated most of the event.
Name:
Russ Hockey

Motto:
"We don't puck around!"

YouTube video highlights of the July 12th, 2009 event that Russ won.
Year Started Racing at Galletta's:
2007

Karts Raced:
Raced the Galletta's Greenhouse #0 before debuting his own Hockey-Mobile #00 at the 2007 Klassic.

Russ before the 13th Annual Galletta's Klassic 200 on 9/21/2008 at Galletta's.
Russ after his first career feature win on 10/12/2008.


Russ after his 1st career feature win on October 12th, 2008!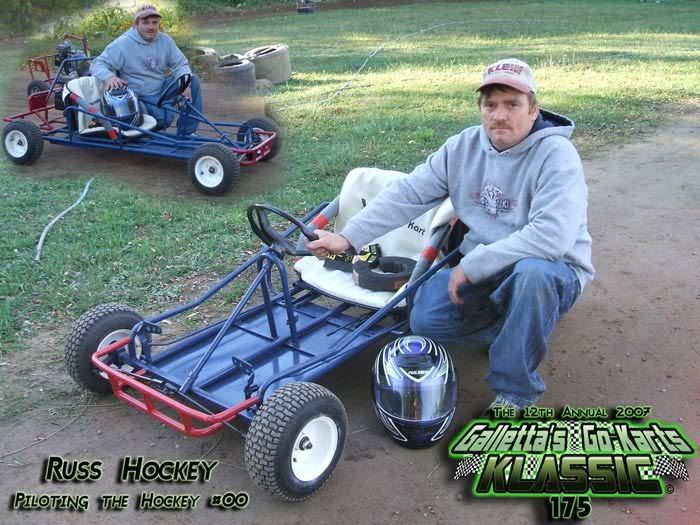 Russ Hockey posing with the Hockey-Mobile #00 at the 12th Annual Galletta's 2007 Klassic (9/23/2007).
---
The Galletta's Go-Karting Club was founded by brothers Matt and Chris Stevens in the early 1990ss when they modified yard karts for racing purposes. They are the inventors of "clockwise 5hp flathead gas stocker kart" racing, and have a 13-kart race team that includes several backup karts available to be rented and raced at both Galletta's and Oswego Speedway all summer. Invented with specifically "gas stock 5hp motor" rules so that a person doesn't have to spend thousands of dollars to race in extremely competitive racing events, the class grows in talent and competition every single year. Don't believe us? Try it and you'll see. Join us by building your own kart for a few hundred dollars, or rent one of our team karts on Summer Thursdays or Summer Sundays in Oswego, NY!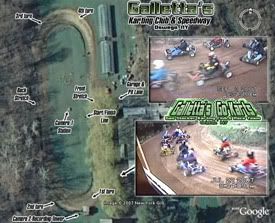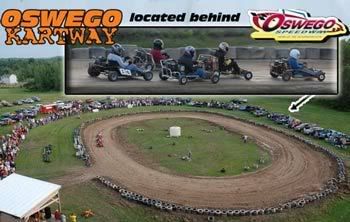 The Oswego Gas Stocker Kart Club races at Galletta's Greenhouse Kartway & Oswego Speedway Kartway
(well, if they let us have our class, that is).
More Galletta's Go-Karting flips, crashes and tight racing carting highlights on:

YouTube And the complete and high quality races found on this site and YouTube can be purchased in our Galletta's Go-Kart DVD store!



Comments, questions, and additional info with Galletta's Kart Club drivers and officials can be found on our new message boards. ->
Click Here for Facts, Questions & Answers.
Click here for Basic rules, regulations, and prices.

Our karting club's home track is located in back of:


Galletta's Greenhouses
60 County Route 20
Oswego, NY 13126-6512
(315) 343-0879 or (315) 343-4281
Need directions? Here they are!
Please visit Galletta's Speedway racer/co-founder/co-owner Chris "Crusher Comics" Stevens's other websites that include my cartoons, comic books, children's book, and family greenhouse:





This website is owned, created, maintained, and copyrighted © by Chris "Chrusher Comix" Stevens (including all text, pictures, artwork, video clips, and descriptions). The views expressed are not necessarily the opinions of others at the Galletta's Go-Kart Club or Galletta's Greenhouse (unless otherwise noted). This site is meant to both document the races at Galletta's Go-Kart Club and also get a good laugh with some humor by a cartoonist (AKA, me), so lighten up.
CHRISCHRUSHER's PROJECTS:
Chris' Children's Book:

Chris' Graphic Novel:



Chris' Goofy Comic Book:



Chris' Family Comic Strip:


Related racing websites:

Oswego Speedway