DRIVER PROFILE FOR MIKE "MC" HOWELL (2007-2010)
[PAGE MOVED TO NEW SITE HERE.]

Michael "MC" Howell finally won his first feature win in his 4th season of racing at Galletta's in the Galletta's Greenhouse #0 kart on July 5th, 2010 in the 1st of two Twin-30 Lap Features. He promptly demolished the kart's steering column when he flipped it (again!) in the 2nd feature after a collision with a rookie!

2007/9/23 - Mike at the 2007 Galletta's Klassic before an impressive 2nd place finish in the 175 lapper!
Name: Michael "MC" Howell
Hometown: Oswego
Birthdate: 3-29-89
Occupation: Oswego speedway track official & track maintenance
Marital Status: single
Children: none
Year Started Racing: 1995
Year Started Racing at Galletta's: 2007
Home Track: Galletta's
Crew Chief: Matt Stevens
Flagger/Official/Part-Time Driver at Oswego Speedway's Dirt track, Oswego Kartway
Career Wins/Highlights at Galletta's: rookie race win. 2nd in 2007 Galletta's Klassic. Feature Win on 7/5/2010.



Matt Stevens won the 2007 Galletta's Klassic. He was followed by Mike "MC" Howell in the Galletta's #0 (with a freshly Matt-Tuned reconditioned used motor off ebay in its first race ever) and Chris "Chrusher" Stevens in the Galletta's #8. More->
How and where did you become involved in racing? my father bought me a kart and said here go race pretty much :p

Why do you race at Galletta's Greenhouse Go-Kart Speedway? Because it low cost and more competitive

What do you do when you are not racing and/or in the off-season?: Either race work or school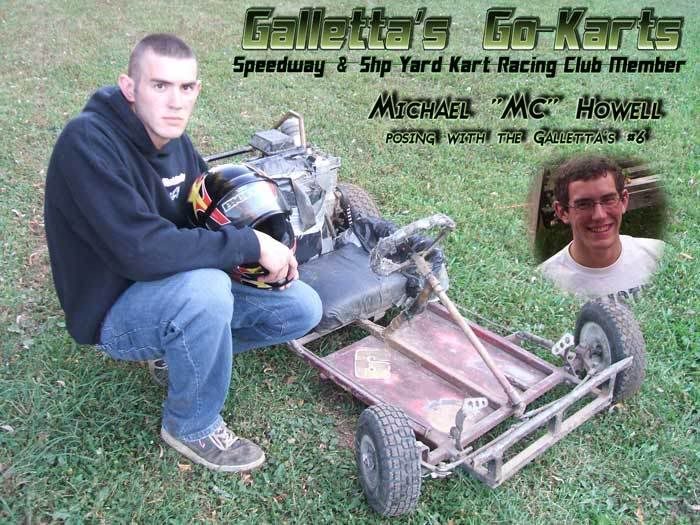 2007/08/26 - Posing with the Galletta's #6. Photo by Chris Stevens.
MC's MySpace:


Galletta's Go-Karts & MC on:

YouTube

__________________________________________________
Webdesigner Chris Galletta-Stevens' artist profile:

Please buy Chris's new children's book (co-created and written by Robert Buchanan)
named, Tee and Wee: Health and Nutrition for Young Earthlings, ON SALE NOW:


Buy it or get a sneak-preview.
Chris' kid-friendly/family-friendly comic strip named Towner (with over 10 years of comics):



Chris' 2007 Graphic Novel, Chrusher - End Cycle:



Chris's 1988-1999 teen-to-adult comic book named "ChrusherComix" (with over 19 years of comics):


This website is owned, created, maintained, and copyrighted © by Chris "Chrusher Comix" Stevens (including all text, pictures, artwork, video clips, and descriptions). The views expressed are not necessarily the opinions of others at the Galletta's Go-Kart Club or Galletta's Greenhouse (unless otherwise noted). This site is meant to both document the races at Galletta's Go-Kart Club and also get a good laugh with some humor by a cartoonist (AKA, me), so lighten up, G***.