Galletta's Go-Karts
60 County Route 20
Oswego, NY, USA
13126-6512
Telephone:
(315) 343-0879
or
(315) 343-4281

Directions:




Racer and website designer Chris ChrusherComix Stevens' other websites:

Chris' Graphic Novel:



Chris' Comic Book:



Chris' Comic Strip:



Chris' Children's Book:



Our family Greenhouse:
Please support this website by checking out our advertisers:


Oswego Speedway
Where we've attended countless races and race dirt go-karts weekly Fridays:


Millions of people worldwide love racing. Many of them would like to race, but don't have the money or resources. Karting (or carting, or go-kart racing) is one of the most affordable forms of racing. But even some brands of karting are extremely expensive, and basically miniature race cars costing thousands of dollars. Stock-engine "Super-yard karting" is the most affordable class of karting in general, costing only hundreds of dollars, and the "Galletta's Go-Kart Club" is our personalized brand of racing which we invented using converted yard-karts and homemade go-karts - hybrid between a $400 and a $4,000 frame for the lesser price. Our rules to keep things affordable are simple: gas-only & stock-part-only motors, preferably single-wheel drive, and everything else is pretty much open to experimentation, as long as you keep it affordable to everybody else in the club! On our Galletta's Greenhouse Karting track, we've always raced with gas-only 5 horsepower Briggs and Stratton motors, and will remain that way for the time being. But on Oswego Speedway, our class used to race in a gas-only, 6.5-horsepower-and-less class and opens up to all kinds of motors, including Over Head Valve and other brands. Either way, this page can help you get started with our cheap, affordable, and fun racing. The advantage of our class? Because we are so affordable, we usually have higher kart counts because just about anybody can afford to rent one of our karts or build their own and race with us. Here is how to do it!

1. A Galletta's Go-Kart-approved Engine: You can't buy our brand of 5 horsepower flathead Briggs and Stratton engines in stores anymore. They were discontinued on favor of OHV engines. In the future, we will go with something different (based on a vote of all active drivers - it will be gas and box stock), but for now, all twelve of our house karts (starter and backup rentals) have 5hp flatheads as well as all of our "visiting drivers" who own their own karts, and they are often found daily on eBay for an exceptionally affordable price. With a "Galletta's Style" tune-up, you'll be getting around 45 MPH on our track in no time! This search should narrow it down and help you get started. Remember, we use stock, gas, 5 horsepower Briggs and Stratton flathead motors. The full motor rules are found on our rules page.

2. Go-Kart Frame: The second thing you'll need is a frame. You can find any type of go-kart frame. You could use an expensive T1 frame or methanol kart-type frame and adapt it, or you could find a used yard kart in a garage or yard sale somewhere for a few bucks and adapt it. Or you could build your own - which is what most of the Galletta's team karts are - built from scratch. We've taken used yard karts and built our own as well. For the most part, the unique part of our racing is that everybody has built or re-built their own karts, and NOT use pre-fabricated frames. We like it this way. Whatever the case, here is a complete, do-it-yourself Go-Kart Kit. This kit in particular is everything you'll need to get started delivered to your door. Main frame, wheels, tires, rims, steering, seat, all but the motor and some adjustments here and there. Though it has a live axle, which is not as effective on our Galletta's track unless you change the right rear to free-wheel. Also, you can buy Build Your Own Go-Kart Manual - Revised Edition.

3. Single-Wheel Drive/ Yard Kart Drive System: One of the unique things about our Gas Stocker/Super Yard Kart class is that they are one-wheel wonders. They are driven by a classic yard kart setup. Motor on the left-rear side, no live axle. This makes them handle well racing clockwise (turning right) on a dirt oval instead of the traditionally counter-clockwise (turning left). This initially disconcerts some people, but not people familiar with road courses or with natural driving talent that can steer a vehicle either direction. The karts handle a bit differently this way, which again makes them unique compared to their WKA counterparts. Below is a close-up of the Galletta's Go-Kart Setup.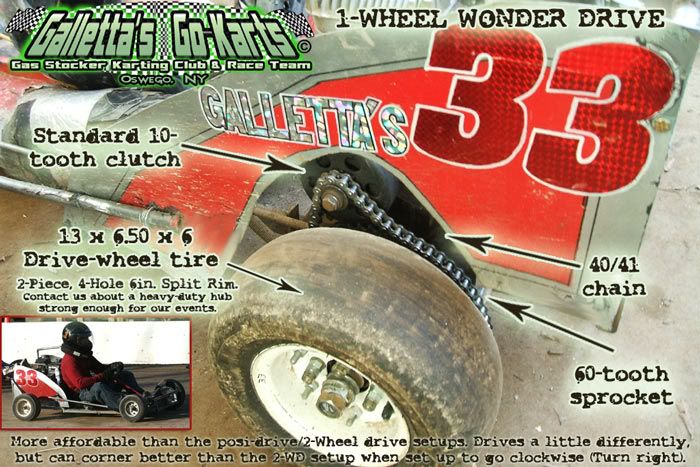 4. Gearing (Clutch, sprocket, chain): Unlike super-tuned and precise WKA-esque flat karts which race on asphalt or high-grade clay that only well-funded speedways can afford to utilize, racing on backyard speedways like Galletta's means your kart must be more durable, yet can still race on smooth surfaces as well. We use 40/41 chain with a 10-tooth clutch and 60-tooth sprocket. This is the best gear for our home track at Galletta's, and most of us keep that same gearing for when we have traveled to away tracks, or else changing several karts over twice a week every week (which we used to do) would get quite tedious. We don't use traditional and mass-produced racing sprockets because they are too fragile to be used on most backyard speedways like Galletta's. Odd that some flat-kart classes have looked down on us in the past, as our karts are more durable, more affordable, completely original, and every bit as competitive as "cookie-cutter" karts that cost four to ten times as much just to even field let alone field competitively. See our website for more details.

Below are outdated 2004-07 Tire specs. You may use them as a guide if wanted, but we have since changed over to used asphalt tires to preserve smoother clay and dig less potholes. Treads have since been banned--on drive-wheel (left-side) tires, and either slicks or light treads are allowed on free-wheel (right-side) tires--since both tracks we race at (Galletta's and Oswego) have clay. The sizes ARE similar to what we started using in 2008, so you can still use them as a guiding point. However, the tires themselves are racing tires, mostly with washers or homemade yard kart rim systems to accommodate their width. One could also use traditional racing rims and tires, but that is a bit more expensive (and more fragile) for similar results. Again, this is how we get professional racing out of traditional go-kart prices, so mockers beware - there are great racers in every form of competitive racing, and probably easily on par with any WKA field. Don't believe us? Try us.

5. Wheels & Tires: At Galletta's, we've never had 100% tire specifications other than your drive-wheel cannot have deep digging grooves, studs, spikes, treads to dig up the track too much. When our club races at Oswego Speedway however, slicks are mandatory, so if you're planning on racing there, then you'll need to also get a set of slicks. Here are the sizes that we've used on our Galletta's Go-Kart setups. But, most of the below assemblies come with cheap "low speed" bearings. We take them out and put higher quality 5/8ths, preferably on all of the free-wheeling wheels. Of course, the drive-wheels need even higher quality than that. Below are the tire sizes and brands that we've used for years.


Our standard drive-wheel (left rear) hub and tire assemblies:
For the S-pattern drive-wheel tires, our standard Galletta's drive-wheel right-rear side tire for the past few seasons has been the Carlisle 13 x 650 - 6 Turf Trac R/S. Usually, we usually get them at a place called BJ's Small Engine located on Route 3, east of Fulton, NY. They usually have them in stock, so when you go there, please tell them that Matt from the Galletta's Go-Karts Club sent you! You can still use these, but the tread must be work down flat, or buy the same size as a slick. See Matt for details. Thanks!

2-Piece, 4-Hole 6in. Split Rim Has 2 13/16in. bolt circle. Fits tire 410 x 6 and 530 x 6. Will work with hub Item#s 138291 and 13830. Note: Although we use this hub, we use washers and/or nuts for spacers and it can get a little complicated. But if you want a more durable hub, then contact us, as we know of a couple more sources, and then you may possibly be able to find a better rim to fit the wider tire.

This below set will have the slick that we like to use on Oswego Speedway's racing surface, but the rim would have to be used for left front. It would not be suitable for a left rear drive-wheel setup. You may still use these sizes, but PLEASE use slicks only. This reduces speeds safely as well as preserve the track for longer races.

Our standard left front tire size (the wheel assembly will need stronger bearings):

Our standard right front tire size (again, higher quality bearings must be used):

Our standard right rear tire size (again, higher quality bearings must be used):
==================================================
Please check out these eBay motors and accessories using this handy eBay page that we've prepared for you:
Come back often for more Galletta's Go-Kart type items for sale!

The Galletta's Go-Kart Club is the central organization for the Gas Yard Kart Championship of Oswego County, NY. The club races in a series of points races at Galletta's Greenhouse and Oswego Speedway every Summer. The entire season is here for your enjoyment. With 57 different racers and 28 points races in 2007 alone, our division boasts the largest dirt kart track, most weekly karting competitors, the most laps run, the most driving talent, the most speed-for-price ratio, and the class with the highest kart counts in the local area, and by far the most affordable carting anywhere in the world! ! If you live in or can make it to the Oswego, NY area during the Summer and early Fall months, then this is all you'll need to get started racing with us! And we guarantee that you will not find a more affordable form of racing, go-karts or otherwise!

GALLETTA'S/OSWEGO RACING YARD KART INDEX PAGE
| ALL-TIME GALLETTA'S STATISTICS | ALL-TIME OSWEGO YARD KART STATISTICS |

All of the regular members of the Galletta's Go-Kart club (and the Oswego Speedway Yard Kart club) above would like to invite anybody interested drivers to join us! We race at Galletta's Greenhouse every Sunday from June through August, and then most Saturdays or Sundays from September through October. We also race at Oswego Speedway's Dirt Kartway every Thursday or Friday from June through August. We have rental karts available, or you can use the above webpage to build your own. Join us! You won't regret the fun you'll have!

Please visit webmaster/Galletta's Speedway racer/co-founder Chris "Crusher Comics" Stevens's other websites that include my cartoons, graphic novel, comic books and children's book:





Galletta's on:


YouTube

Galletta's All-Time Points.

Oswego All-Time Points.
2-Track All-Time Points
All-Time Win Stats