CHRISCHRUSHER's PROJECTS:
Chris' Children's Book:

Chris' Graphic Novel:



Chris' Goofy Comic Book:



Chris' Family Comic Strip:

DRIVER PROFILE FOR KEN LINDSLEY SR. (2007)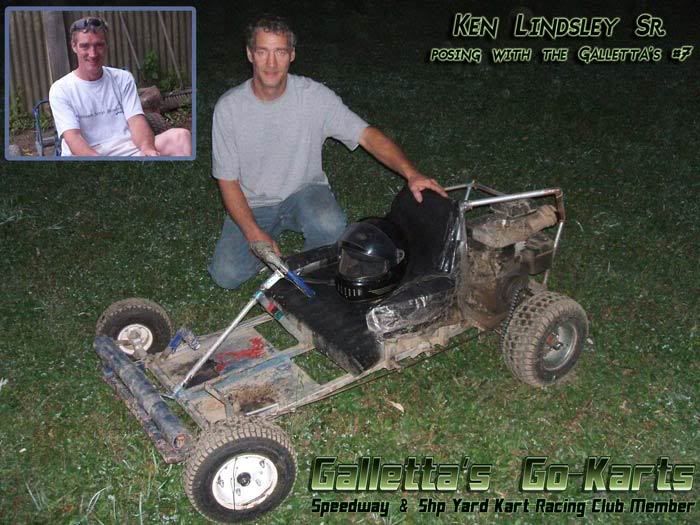 Ken Lindley Sr. posing with the Galletta's #7 on 2007/08/26 - Photo by Chris Stevens.
Name: Ken Lindsley Sr.
Year Started Racing at Galletta's: 2007
Career Wins at Galletta's: Heat Wins
Home Track: Galletta's
Karts Raced: Several different Galletta's Karts
Crew Chief: Matt Stevens
__________________________________________________
Webdesigner Chris Galletta-Stevens' artist profile:

Please buy Chris's new children's book (co-created and written by Robert Buchanan)
named, Tee and Wee: Health and Nutrition for Young Earthlings, ON SALE NOW:


Buy it or get a sneak-preview.
Chris' kid-friendly/family-friendly comic strip named Towner (with over 10 years of comics):



Chris' 2007 Graphic Novel, Chrusher - End Cycle:



Chris's 1988-1999 teen-to-adult comic book named "ChrusherComix" (with over 19 years of comics):


This website is owned, created, maintained, and copyrighted © by Chris "Chrusher Comix" Stevens (including all text, pictures, artwork, video clips, and descriptions). The views expressed are not necessarily the opinions of others at the Galletta's Go-Kart Club or Galletta's Greenhouse (unless otherwise noted). This site is meant to both document the races at Galletta's Go-Kart Club and also get a good laugh with some humor by a cartoonist (AKA, me), so lighten up.
Galletta's on:


YouTube

Race Index:



Photobucket

XtremeFotos
(Under 'Yard')
Racing at Galletta's &
Oswego Speedway all Summer.