RACE ARCHIVES:
Race Index:

2008 DRIVER PROFILE FOR CHRIS STOCKHAM: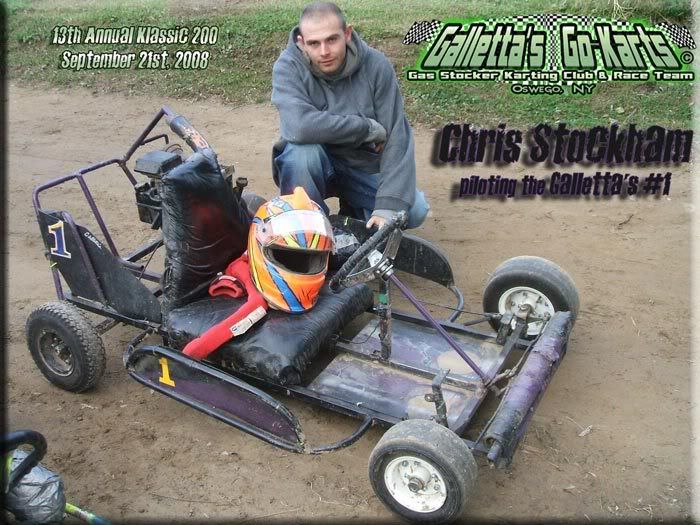 Name: Chris Stockham

Fun Facts: Chris is a guest star driver at our track who races cars all over the Northeast USA, including a 600 cc Modified, which he has won feature events in (See below videos). His primary sponsor is his father's National Parts Peddler.

Chris raced every adult class (except the Gas OHV Outlaws) at the 2008 Oswego Kartway Classic, and won two trophies that night despite being yelled at and called names by the operator. [SARCASM START] Gee, that seems to be a rare occurrence, huh? He's never ever over-reacted and yelled at anybody for little-to-nothing before, has he? [SARCASM END] Chris did well for his 1st time ever in a Galletta-type 1-WD Gas Flathead racing kart, finishing 4th (second only to the club founders, Matt, Wes and Chris Stevens). He also ran hard in the 2008 Galletta's Karting Klassic 200, challenging for the lead at one point, but demolished two karts by driving them too hard for the duration of the marathon 200-Lap event.

Stockham's YouTube Channel, constantly updated with his racing highlights (and tons of people apparently wrecking him in every race on every track or something):

Although Chris raced with us in our two tracks Classic races in 2008 and we all thought that he had a good time, in 2010 he posted on Gary Miller Sr.'s facebook that he thought that our karts were "Gallettas is gay, backyard backwards karts," to race for "shits and giggles," and to "beat the $#!t out of," and "break." After a spectator and part-time club driver reminded us all that Stockham was probably the sloppiest and most wreck-prone driver in the 2008 Galletta's Klassic, Chris then apologized and acknowledged respect that we're just a friends-and-family backyard karting club racing affordably and admitted that he only said that because Gary Miller Sr. was flirting with his girlfriend (who was Gary's daughter's age), and unfairly took it out on the rest of the club [SARCASM START] Gee, this also seems to be a rare occurrence, too, huh? Gary has never ever pissed people off before, has he? And he's never made people think bad of us just by being acquainted with him, has he? Naw! [SARCASM END] Although it did offend us greatly, we at Galletta's accepted his apology, hold no grudge, and would invite him to race again anytime.

The Galletta's Go-Karting Club was founded by brothers Matt and Chris Stevens in the early 1990ss when they modified yard karts for racing purposes. They are the inventors of "clockwise 5hp flathead gas stocker kart" racing, and have a 13-kart race team that includes several backup karts available to be rented and raced at both Galletta's and Oswego Speedway all summer. Invented with specifically "gas stock 5hp motor" rules so that a person doesn't have to spend thousands of dollars to race in extremely competitive racing events, the class grows in talent and competition every single year. Don't believe us? Try it and you'll see. Join us by building your own kart for a few hundred dollars, or rent one of our team karts on Summer Thursdays or Summer Sundays in Oswego, NY!


The Oswego Gas Stocker Kart Club races at Galletta's Greenhouse Kartway & Oswego Speedway Kartway.

More Galletta's Go-Karting flips, crashes and tight racing carting highlights on:

YouTube And the complete and high quality races found on this site and YouTube can be purchased in our Galletta's Go-Kart DVD store!



Comments, questions, and additional info with Galletta's Kart Club drivers and officials can be found on our new message boards. ->
Click Here for Facts, Questions & Answers.
Click here for Basic rules, regulations, and prices.

Our karting club's home track is located in back of:


Galletta's Greenhouses
60 County Route 20
Oswego, NY 13126-6512
(315) 343-0879 or (315) 343-4281
Need directions? Here they are!
Please visit Galletta's Speedway racer/co-founder/co-owner Chris "Crusher Comics" Stevens's other websites that include my cartoons, comic books, children's book, and family greenhouse:


Galletta's Greenhouse & Karting Team
60 County Route 20
Oswego, NY, USA
13126-6512
Telephone:
(315) 343-0879
or
(315) 343-4281
(Ask for Matt or Chris only!)
Directions



Galletta's on:


YouTube
2008 DVD store
2007 DVD store
2006 DVD store
Racer and website designer Chris ChrusherComix's other websites:

Chris' Graphic Novel:



Chris' Comic Book:



Chris' Comic Strip:



Chris' Children's Book:

Our Greenhouse:
Please support this website by checking out our advertisers:


Galletta's & Oswego Stock Karting Clubs

Melissa G's
Scissors N' Fur
Galletta's Go-Karts on



Photobucket


Other racing websites:

Oswego Speedway
Where we've attended countless races and race dirt go-karts in the Summer: